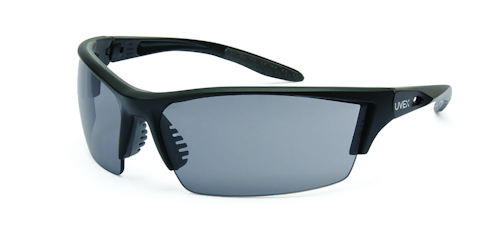 Utility safety: At ASSE Safety 2014, Honeywell launched Uvex Instinct safety eyewear, combining military-grade impact resistance, market-leading lens coatings and premium adjustability to protect workers in virtually any environment. The sleek new style meets the U.S. military ballistic impact resistance requirement for eyewear, while advanced anti-fog and anti-scratch lens coatings significantly extend visibility and lens life. The eyewear's lightweight design includes a variety of comfort features and adjustments to ensure a secure fit. Uvex Instinct delivers the superior protection, performance and comfort required to stand up in the most demanding environments.
"Finding eyewear that does it all ­ without compromising comfort and style ­ is a big challenge for safety managers," said David Iannelli, senior product manager for Honeywell Safety Products. "We designed Uvex Instinct to stand up in environments where high impact hazards, extreme dirt and intense humidity are all factors, and to deliver the custom fit and style that workers won¹t want to take off."
The new eyewear is certified to meet not only the ANSI Z87.1-2010 and CSA Z94.3 standards for impact protection, but also MIL-PRF-31013, CLAUSE 3.5.1.1 to provide maximum impact resistance. Uvex Instinct lenses are available with Uvextreme® Plus anti-fog coating to deliver 10 times longer anti-fog protection and two times greater scratch resistance than other anti-fog coated lenses for high performance in hot, humid and dirty environments.* Lenses are also available with advanced Supra-Dura anti-scratch coating, which lasts five times longer than competing coatings, extending lens life in rugged, high-particulate environments. With seven available lens tints ­ Clear, Gray, Amber, Blue Mirror, SCT-Reflect 50, SCT-Gray and SCT- Low IR ­ Uvex Instinct is versatile enough to meet the needs of nearly any lighting application.
The eyewear's dual seven-base wraparound design affords uncompromised peripheral vision, while innovative ratcheting temples adjust lens inclination up to 15 degrees for a customized fit. The fully-integrated, cushioned browguard comfortably diffuses and deflects impact energy, while soft, flexible fingers on the nosepiece minimize slippage. Slim, curved temples provide a secure fit with minimal tension around the ears while padded temple tips cushion the delicate areas above and behind the ear for added comfort and retention.
Uvex Instinct safety eyewear is available now through major safety equipment distributors in the Americas.
*Comparative lens life test performed using a Bayer Abrasion Test method and may vary between environment and application. Anti-fog performance based on independent lab test results.
For more information about Honeywell / Uvex or other products, click here to go to Utility Products' Buyers Guide.