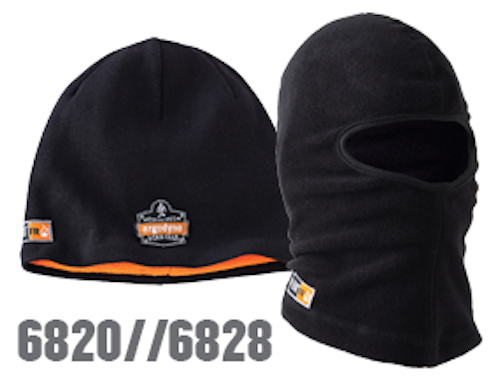 Safety clothing / safety products: Ergodyne has expanded its N-Ferno® Warming Products to include the N-Ferno® 6820 Flame Resistant (FR) Knit Cap and N-Ferno® 6828 FR Modacrylic Blend Balaclava. These new products are not only built to keep workers protected from winter's wrath, they also provide the utmost in FR protection.
"At Ergodyne, we are experts in developing gear that addresses multiple and often competing hazards," said Adria Hardy, product manager. "Workers and safety managers can rest easy this winter knowing the new FR Knit Cap and Balaclava have been designed to withstand subzero temperatures using only compliant FR materials."
While both products are FR compliant, they have unique features and benefits:
• N-Ferno® 6820 Flame Resistant (FR) Knit Cap: With an ATPV rating of 49.5 cm/cm2, this product is classified as an HRC 4, our highest HRC rating! The 6820 FR Knit Cap provides the ultimate in FR fabric protection and extreme warmth. The modacrylic cotton blend construction (in both the shell and lining) delivers a toasty warm yet breathable cap that is stylish and excels in FR protection.
• N-Ferno® 6828 FR Modacryclic Blend Balaclava: Classified as HRC2 according to NFPA 70E, as well as meeting the EN 1149 standards for anti-static, the FR Balaclava is an economical option for workers looking for superior FR protection in extreme conditions. The 6828 balaclava can be worn comfortably under a standard hat or hard hat and is built for cold temperatures with a single layer modacrylic blend construction and long length.
"Ergodyne is quickly becoming a one-stop shop for Flame Resistant PPE," said Tom Votel, president and CEO. "With our new and growing FR Apparel Line as well as constant additions and enhancements to our FR Accessories, we have multiple products addressing the various needs of workers who deal with arc and flash fire risk every day. We are firm believers that even competing hazards like cold weather and fire, can be addressed in a single, comfortable solution."
Ideal for workers in cold environments who are required to wear FR Apparel, the new N-Ferno® 6820 FR Knit Cap and N-Ferno® 6828 FR Modacrylic Blend Balaclava are available now at all authorized Ergodyne distributors.
For more information about Ergodyne or other products, click here to go to Utility Products' Buyers Guide.