Safety lighting: Vapor proof LED handheld trouble light
Work light: Larson Electronics releases a 25-watt vapor proof LED handheld trouble light with 25 in. cord.
Oct 24th, 2014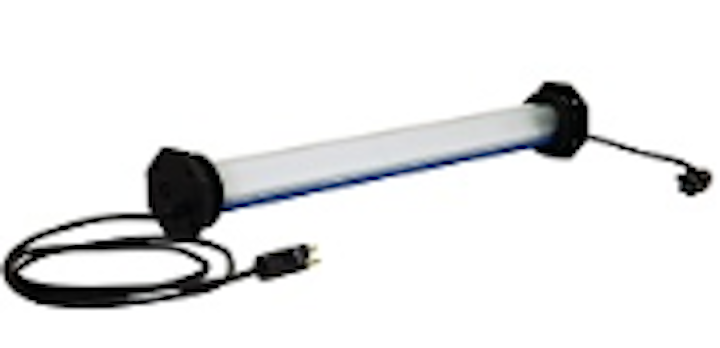 Safety products / utility equipment: Industrial lighting specialist Larson Electronics has announced the release of a 25-watt LED handheld trouble light that is vapor proof and approved for damp locations. This light produces four times as much illumination as a 40-watt bi-axial fluorescent bulb and is ideal for close quarter work and inspection activities.
The VPHLED-12W-25 work light is made of an IP66 rated construction and produces four times as much illumination as a comparable bi-axial fluorescent bulb, making it a more powerful and durable alternative to incandescent and fluorescent work lights. The end caps on this unit are rubber coated to provide secure handling and protection against impacts and vibrations. Each end cap has four holes, allowing for attached hooks, chains, or ties to the light from each end cap. This LED light is safe for use in damp areas and is sealed against intrusion of vapors.
This unit is designed for daisy chain connections, with a male 5-15P cord cap on one end and a female 5-15C cord cap on the other. Twenty-five in. of 16/3 SJOW cable is provided for line in cable, and 3 ft. for line out cable. Operators can connect multiple units end-to-end for up to 30 units on a single 10 amp circuit. The 50,000 hour operating life and cool operation of the LEDs, rugged aluminum housing, polycarbonate lens, and high output of this lamp make it an ideal work light for operators looking to upgrade from fragile fluorescent and hot running incandescent work lights. This LED work light will outlast incandescent and fluorescent lamps, has none of the high heat that can cause burns from accidental contact, and does not require a ballast to operate.
Larson Electronics carries an extensive line of LED light towers, portable power distributions, explosion proof lights for hazardous locations, portable work lights and industrial grade LED area lights.
For more information about Larson Electronics or other products, click here to go to Utility Products' Buyers Guide.