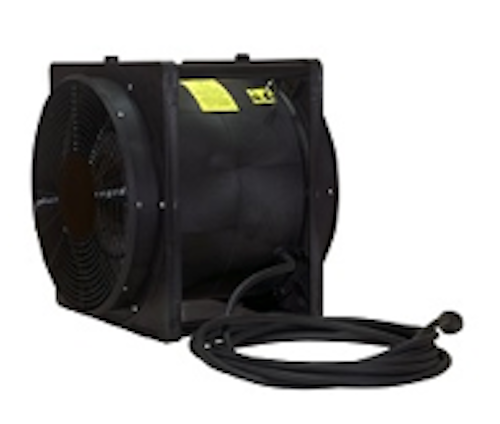 Utility supplies: Larson Electronics has announced its Class 1 Division 1 explosion proof fan/blower designed for use on a 220 volts AC electrical power system. This explosion proof blower meets UL and ATEX standards for hazardous locations and provides high 4450+ CFM output for effective airflow in larger spaces.
The EPF-E16-4450-220V explosion proof fan has a fifteen foot static conductive duct that safely and effectively redirects stale air from hazardous location areas. This portable, electric explosion proof blower features a high efficiency 1.5 horsepower motor that is fully encapsulated with a precision balanced, non-sparking aluminum blower blade for high output and protection against accidental ignitions. This fan has a sixteen inch intake and exhaust flanges and produces over 4,450 CFM of air output for excellent movement of air in large areas. This fan also features a light weight, high strength, anti-static glass reinforced ABS housing that is corrosion proof and chemical resistant with an IP65 rated and rain tested switch enclosure.
This explosion proof fan/blower operates on high voltage 220 volts AC with an 18 amp initial draw and a 5 amp constant draw after startup. This unit comes complete with thirty feet of cord fitted with a 25 amp, 5-15 explosion proof twist-lock plug. The included fifteen foot duct is a single-ply polyester reinforced PVC vinyl fabric hose design with an external wear strip reinforced with a spring steel wire helix. It is lightweight for blower applications and highly compressible. The retractibility of the static conductive duct allows for convenient storage and easy transport in a fraction of its fully extended length and has low friction loss. Ambient operating temperature for this unit ranges from -20° to 180° F.
"Operators of environmental companies, petrochemical companies, manufacturing facilities, tank cleaning and blasting companies all need to keep the air within the work area fresh and remove stale air," said Rob Bresnahan with Larsonelectronics.com. "When operators are looking to remove toxic air from confined spaces, they generally determine the rate at which the area needs to be cleared. This unit has a rated air delivery of 4,450 cubic feet per minute."
Larson Electronics carries an extensive line of explosion proof LED lights, LED work lights, light tower, intrinsically safe LED lights, portable work lights and industrial grade LED area lights.
For more information about Larson Electronics or other products, click here to go to Utility Products' Buyers Guide.