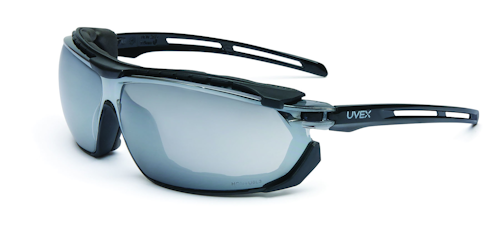 Safety eyewear: Honeywell has introduced Uvex Tirade sealed eyewear for protection in high particulate environments. The eyewear's large unilens design offers a wide field of unobstructed peripheral vision while its soft foam subframe ensures a comfortable, gap-free fit. Available in a variety of lens tints and Uvextra® anti-fog lens coating, Uvex Tirade is a cost-effective solution for indoor and outdoor use where dust, dirt and debris present the risk of eye injury.
"Sealed eyewear, which fits like a safety spectacle but offers the added protection of a safety goggle, is rapidly gaining popularity as employers recognize the increased safety and versatility it delivers," said David Iannelli, senior product manager for Honeywell Safety Products. "Uvex Tirade combines the protection and innovation of the world's leading safety eyewear brand with all-day comfort features and modern styling in one affordable solution, a combination on which safety managers and workers can see eye to eye."
The style's molded, closed-cell foam easily conforms to the face for a comfortable, gap-free fit, while indirect ventilation channels on the foam and subframe provide superior dust filtration to keep debris out of the eyes. A quick-release hinge system that converts easily from temples to headband and a removable foam subframe allow workers to wear the eyewear as a traditional spectacle in environments where airborne debris is not present.
Lenses are available in five lens tints ­ Clear, Gray, Amber, Silver Mirror and SCT-Reflect 50 ­ and come with Uvextra anti-fog lens coating to reduce fogging and prolong clear visibility. The eyewear features a 100 percent non-conductive dielectric design that is safe for use in environments where accidental exposure to electrical charge is possible. Uvex Tirade meets ANSI Z87.1-2010 and is certified to the requirements of the CSA Z94.3 standard, both with and without the foam subframe in place.
For more information about Honeywell or other products, click here to go to Utility Products' Buyers Guide.