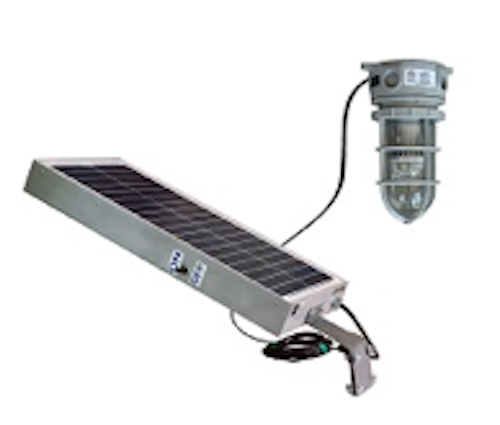 Safety products: Serving the utilities, industrial and commercial business communities for over 40 years, manufacturer and distributor of high grade light equipment Larson Electronics has released a solar powered explosion proof LED light fixture with an optional strobe or steady burn configuration. This explosion proof LED light and solar panel combination includes a day/night sensor, manual on/off switch, and a motion sensor to maximize battery life.
The HAL-LED-SOL12 explosion proof solar powered LED light fixture from Larson Electronics is Class I Division II approved and is an ideal lighting solution for remote areas and standalone applications where connection to external power is either impractical or unavailable. This fixture is also compliant with NEMA 4X standards and marine-rated for use in salt water environments. This 10 watt, 1050 lumen output LED lamp fixture is a powerful yet compact hazardous location lighting solution that will improve overall illumination levels and light quality while reducing operating costs. The illumination produced by the 10 watt LED fixture is 55¹ long by 55¹ wide when mounted 12 feet from the ground. This explosion proof LED light is powered by two 10aH sealed lead acid batteries that are recharged by a 60 watt solar panel. The fixture operates on 24V DC for use with the low voltage solar panel and includes 30 feet of SEOOW cable. Mounting options include ceiling, wall and pendant for the lamp fixture and flat surface or round/square pole mounting such as on utility poles or structure supports for the solar panel.
The solar powered explosion proof LED light fixture is equipped with a day/night sensor as well as a motion sensor to maximize the battery life. The motion sensor switches the light on when it detects movement and will keep the fixture illuminated for up to 20 minutes. The light may also be configured to work on the day/night sensor. When ambient light levels drop below 30 lux, typically at sunset, the fixture will automatically turn on. The fixture will operate for 15 hours when the battery is fully charged. Charging time for the battery bank is 5 hours when the panel is exposed to direct sunlight. As with all solar equipment, charging time is affected by the amount of available ambient light. So when the ambient light levels drop below a certain level, the unit will not recharge as quickly.
For more information about Larson Electronics or other products, click here to go to Utility Products' Buyers Guide.