Work light from Larson Electronics
Safety lighting: Larson Electronics releases a 150-watt pedestal mount Class 2 Division 1 explosion proof work light.
Apr 11th, 2014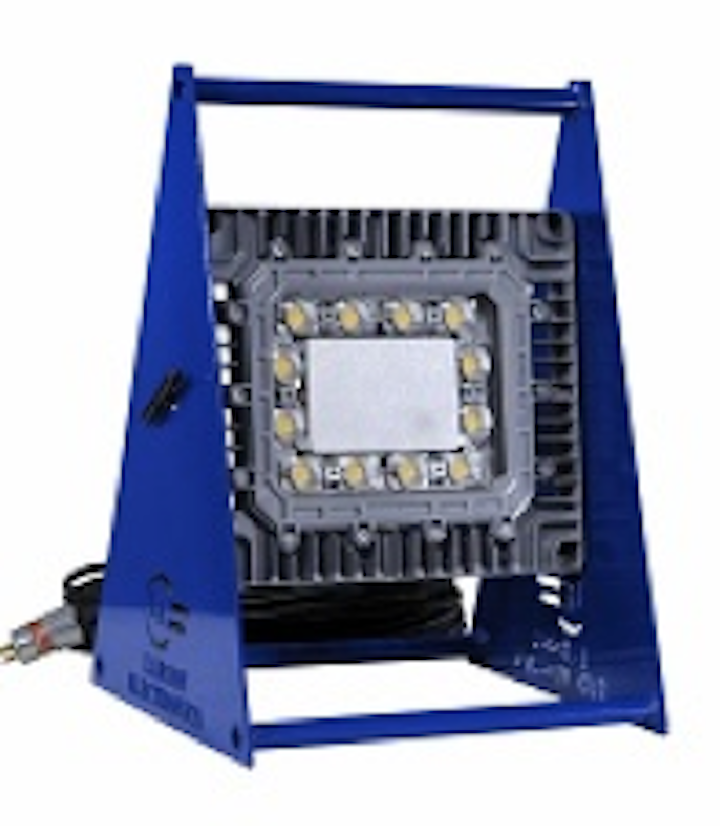 Work safety equipment: Larson Electronics announces the release of a 150-watt Class 2 Division 1 explosion proof LED light mounted on a non-sparking aluminum base. The EPLC2-PM-150LED-100 explosion proof LED light can illuminate up to 10,000 square feet of work space and features a convenient pedestal mount base stand for easy handling and operation.
The EPLC2-PM-150LED-100 explosion proof LED light from Larson Electronics provides 10,000 square feet of work area coverage with 12,500 lumens of light output. This portable LED light is mounted within an A-frame portable stand constructed from non-sparking aluminum and powder coated for increased durability and corrosion resistance. This LED work light produces a brilliant flood pattern of light that is ideal for illuminating enclosed areas and hazardous locations where flammable vapors, gases and dusts may be present.
This explosion proof LED light fixture is comprised of a 16 inch wide by 14 inch tall rectangle light head mounted within a pedestal base stand with a convenient carrying handle built into the top of the stand. The LED lamp produces 12,000 lumens of light with a color temperature of 6000K and a color rendering index of 70, which produces colors and details much more accurately than high pressure sodium or mercury vapor lamps. The explosion proof LED light head in this unit features multiple LED drivers which helps increase the operational life. With traditional LED lights, in the event an LED array or driver fails, the entire fixture no longer illuminates. This new series of LED lamps contains twelve individual LED boards configured in a series of banks. Each bank contains two LED boards with an individual driver. In the event of a driver failure, only one bank of LEDs will be affected while the other banks will continue to operate. In the event of an LED failure, the mating LED will continue to operate.
The lamp can be easily adjusted up or down 90° and locked into position by simply loosening the two hand screws located on either side of the light head and tightening them once the desired angle is found. This unit is multi-voltage capable and is configured to operate on 120-277 volts. Included with this explosion proof LED work light is 100 feet of SOOW cord terminated in a 1523 explosion proof straight blade plug.
"While maintaining the light output of a metal halide, this LED light will not produce as much heat and also uses less power to operate than that of a metal halide or fluorescent light," Rob Bresnahan with LarsonElectronics.com said.
Larson Electronics carries an extensive line of LED light towers, portable power distribution systems, explosion proof lights for hazardous locations, portable work lights and industrial grade LED area lights.
For more information about Larson Electronics or other products, click here to go to Utility Products' Buyers Guide.