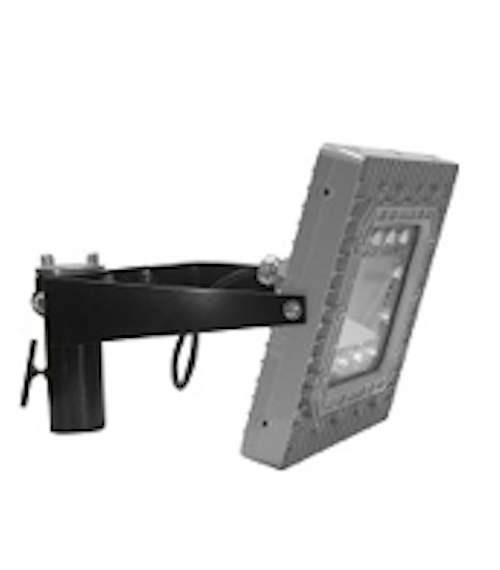 Utility equipment: Larson Electronics has released a 150-watt LED explosion proof pole top slip fitter light. The EPL-PT-150LED-RT provides operators with a powerful and energy efficient alternative to traditional hazardous location luminaries.
The EPL-PT-150LED-RT Class 1 Division 1 & 2, Class 2 Division 1 & 2 pole top slip fit mount explosion proof light fixture from Larson Electronics provides 12,000 lumens of high quality light while drawing only 150 watts. The copper free aluminum alloy body is powder coated for added durability and an attractive aesthetic appearance. A special heat dissipating design in conjunction with LED technology helps this fixture to achieve an excellent 60,000-hour rated lifespan with 80% lumen retention. Lightweight and a low profile make this unit an attractive alternative to larger and heavier older fixtures and require less hardware to install.
The pole top slip fit mount light features an adjustable swivel bracket constructed of 3/8 in. aluminum that allows over 180° of adjustment and is attached to a slip fit yoke for easy installation. The slip fit yoke is built to customers' specifications, enabling operators to mount this explosion proof LED light to their specific pole size. The wiring is terminated in flying leads, held in place with a cord grip. The flying leads allow the user to tap this Class 1 Division 1 light to the desired voltage during installation. The LED flood light is multi-voltage capable and configured to operate on 120-277 volts 50/60 Hz without any need for a special ballast. The aluminum body and LED lamp give this light excellent durability and resistance to vibration and impacts. The housing is designed to dissipate heat, which increases the efficiency and lifespan of the LED luminaires. The LED lamp is T5 temperature rated, Design Lights Consortium approved, and the LED light head retains 80% of its lumen output after 60,000 hours of use, far longer than incandescent or fluorescent lamps.
"Our new EPL-PT-150LED-RT meets the demands of consumers offering a pole top mount light that can fit on a 2 1/2 in., a 2 3/4 in. or a 3 in. diameter pole,"said Rob Bresnahan with Larsonelectronics.com.
Larson Electronics carries an extensive line of LED light towers, portable power distributions, explosion proof lights for hazardous locations, portable work lights and industrial grade LED area lights.
For more information about Larson Electronics or other products, click here to go to Utility Products' Buyers Guide.