Circuit breaker retrofit standardized by ABB
Safety products: OneFit is ABB's new hard bus retrofill concept designed to easily connect new standard circuit breakers to a wide range of existing panels for greater safety, reliability.
May 2nd, 2014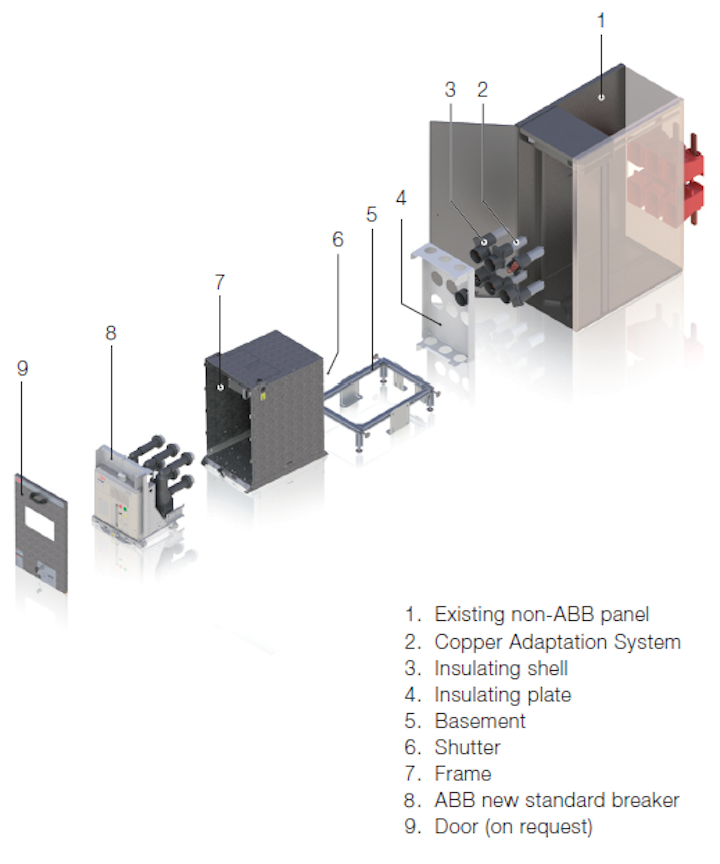 Utility safety: ABB has launched OneFit, a standardized new circuit breaker retrofit solution. Retrofit breakers are normally used to replace phased out devices by current production versions. They are mechanically and electrically engineered to adapt to the existing solution on site. Retrofill, which is one technical solution to retrofit phased out devices, stands for the modernization process of the circuit breaker. The OneFit is not a standard retrofill design concept where only the breaker is exchanged; it also includes a range of solutions supporting the switchgear upgrade when additional constraints are in place.

OneFit is composed of a frame hosting the new circuit breaker. It is connected to the existing switchgear bushings by an additional power circuit, which acts also as inner interface with the new breaker. This solution balances the need for a retrofill solution with reasonably limited site works and linked outage, thus avoiding any site impact like infrastructure modification.

OneFit is the latest ABB hard bus retrofill design concept, embedding an integrally safe plug-in technology to easily connect the new breaker to a wide range of existing panels.

"ABB is pleased to introduce the new OneFit hard bus retrofill concept to the market," said Rick Gardner, Sales & Marketing Manager, ABB. "OneFit's new apparatus racking system, integrated metallic isolating shutter and state of the art interlocking system put this concept design well in front of any other hard bus retrofill solution available on the market in terms of improved dielectric properties and safety."

Personal protection is increased by added features to overcome the existing equipment design constraints and providing closed-door operational mode to avoid accidental electrical contact injuries. The optional embedded remote racking provides a safer operating environment for personnel through the proven method of adding distance between the operator and arc flash incident energy at the switchgear site bringing operation of power equipment to a new operational level of safety.

ABB is a leader in power and automation technologies that enable utility and industry customers to improve performance while lowering environmental impact. The ABB Group of companies operates in around 100 countries and employs about 150,000 people. The company's North American operations, headquartered in Cary, North Carolina, employs about 30,000 people in multiple manufacturing, service, engineering and other major facilities.

For more information about ABB or other products, click here to go to Utility Products' Buyers Guide.