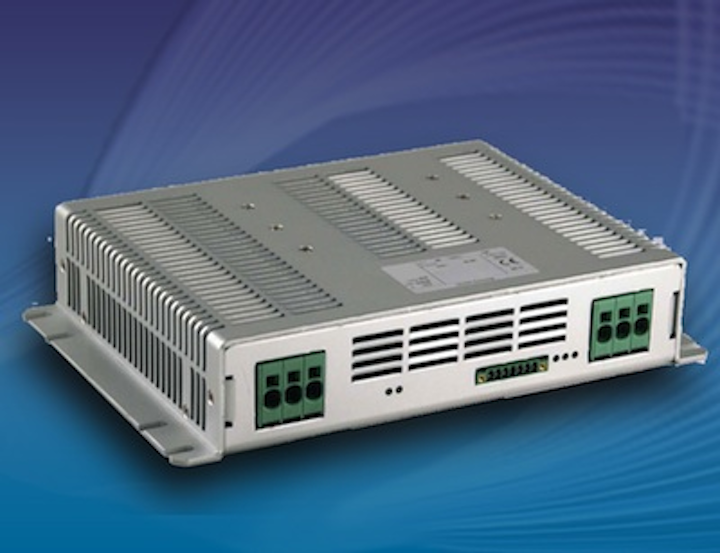 Hopkinton, Mass.—Schaefer announces the PRC-500 Series of DC/DC converters that provide 500W of power in a compact, chassis mount package. The PRP-500 Series has versions that meet industrial (EN60950) or rail (EN50155) standards.

Standard nominal input voltages are 24VDC, 48VDC, 72VDC, and 110VDC. The PRC-500 Series provides highly efficient (up to 92 percent) conversion to adjustable 24VDC and 48VDC outputs that are tightly regulated to 0.2 percent or better. An O Ring FET option allows for efficient parallel operation of multiple units.

All models in the PRC-500 Series boast comprehensive protection circuitry against short circuit/overload, input reverse polarity, input under voltage or undercurrent, and output overvoltage. Remote sense, remote inhibit, LED indicators, and alarm signals are part of the standard design. A wide operating temperature of up to -25C to +75C allows for installations in extreme conditions and meets EN50155 Class 3. Emissions to EN61000-6-4 and EN60121-3-2 meets both industrial and rail standards and minimizes interference to other sensitive equipment.

The compact size of the PRC-500 Series measures 10.47" x 7.08" x 2.16". In addition to chassis mounting, an optional DIN rail clip or 6U subrack plate is available.

Schaefer's full family of DC/DC converters also includes other modules starting at 45W of power and increases in ratings up to high power (30kW) designs.

Modifications to standard units are available. In addition, Schaefer can design and manufacture fully custom solutions.

For more information about Schaefer or other DC/DC converters, click here to go to Utility Products' Buyers Guide.