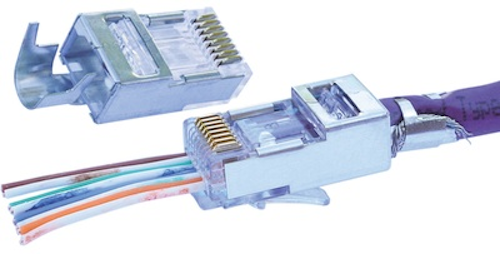 Camarillo, Calif.—Platinum Tools, a provider of solutions for the preparation, installation and hand termination of wire and cable, announces the launch of the recently updated EZ-RJ45 shielded Cat5e/6 connectors with internal or external ground. The EZ-RJ45 shielded connectors are now shipping.

"Made in the USA and designed to work on both Cat5e and Cat6 cables, solid or stranded, our upgraded EZ-RJ45 connectors combine the performance exclusive to its predecessor's design, but now with the advantages inherent to shielded products for an unparalleled solution," said Lee Sachs, Platinum Tools, Inc. president and general manager. "By shielding the EZ-RJ45, additional electrical isolation means the cables are even less susceptible to electrical interference caused by nearby equipment or wires and, in response, are less likely to cause interference themselves. Additionally, in applications where NEXT, FEXT, and AXT are an issue, using shielded products can be the solution."

By using the new EZ-RJ45, simplify twisted pair terminations by allowing the wires to be inserted through the connector and out the front, to easily verify the proper wiring order. Pulling the connector down over the cable jacket and seating it tightly in the rear of the connector optimizes electrical performance of the termination. Reducing the distance between the wire twists and contacts also improves performance. Terminate with the patented Platinum Tools EZ-RJ45 Crimp Tools…crimp and trim in one cycle.

Additional features of the EZ-RJ45 shielded Cat5e/6 connectors include:
• Made in the USA
• Through holes allow wire pairs to be inserted through front of connector for faster terminations
• EZ to verify wire sequence, reduces scrap
• More reliable and higher performance
• Works with solid or stranded wire; separate connectors not required, reducing inventory and confusion
• Simple one-piece design; bars or liners not required
• Use in Category 3, 5, 5E or 6 compliant data networks
• UL rated, FCC & RoHS compliant
• 50 micro inch gold plated
• Internal ground: maximum cable OD: 0.260in.; maximum conductor OD: 0.041in.
• External ground: maximum cable OD: 0.280+in.; maximum conductor OD: 0.041in.

The EZ-RJPRO HD modular crimp tool has been designed to terminate all EZ-RJ45 (Cat3, 5, 5e, and 6) and EZ-RJ11 (4 and 6 contact) plugs and can also be used to terminate most regular RJ45 and RJ12/11 plugs. It provides a ratcheted, high leverage, ultra stable platform for consistent, repeatable terminations. This heavy-duty tool is the perfect solution when working with high performance, larger OD cables that are tougher to terminate due to larger wire gauges, thicker, harder insulation on the conductors and pair separating splines. Not only will connectivity obstacles be overcome, but the installer can be assured that every termination will meet FCC specifications.

The patented, rugged PRO HD tool, which will reliably crimp and trim wires at the same time, has an all steel frame, PVC handles, and a rust resistant, black oxide finish to stand up to the rigors of field installations.

This heavy-duty ratchet style tool includes integral cable cutter/jacket strippers for round (Cat 3-6) and flat (silver satin) cable, providing optimal pressure to all contacts for a precise crimp while the vertical action assures all contacts are terminated to the proper depth.
For more information about Platinum Tools or other connectors, click here to go to Utility Products' Buyers Guide.