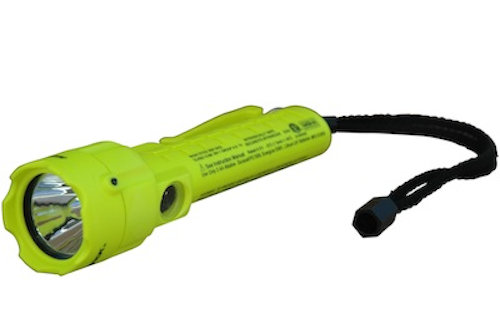 Larson Electronics' LXFlashlights.com has announced the release of the EXP-LED-FX2 explosion proof LED flashlight as part of its growing line of portable hazardous location lighting solutions. This explosion proof LED flashlight produces impressive output and the versatility of multiple operating modes and is compliant with U.L. and ATEX standards for hazardous locations. The EXP-LED-FX2 is Class 1 Division 1 certified intrinsically safe and well suited for use as an inspection or work light in locations where flammable gases, vapors and chemicals present an explosion or fire hazard.

The EXP-LED-FX2 intrinsically safe LED flashlight is a highly durable and powerful LED lighting solution for those working in hazardous locations where a Class 1 Division 1 compliant lighting solution is required. Designed for durability with a lightweight resistant ABS plastic housing and equipped with a shatterproof LEXAN lens, this intrinsically safe LED flashlight contains powerful LEDs that produce an impressive 160 lumens of illumination with up to 14 hours of runtime on a single set of batteries.

This light is designed for convenient and versatile operation with dual operating modes including an 80 lumen spotlight mode, and an 80 lumen floodlight mode. Operators can also run this light in combination spot and flood mode to produce a full power 160 lumen light beam with a wide spread and long reach. This dual mode operation makes this unit very versatile, allowing operators to utilize the light as a standard flashlight, or as a temporary work area light as needed.

Power for this light is provided by standard AAA alkaline batteries that provide up to 14 hours of runtime. The entire unit is waterproof to protect against exposure to moisture and a non-slip grip housing provides secure handling in damp or wet conditions. This explosion proof flashlight is approved for Class 1, 2, 3 Div 1, Class 1, 2, 3, Div 2 locations, providing users with the highest level of hazardous location protection available. This light is ideal for operators anywhere an intrinsically safe source of portable illumination is needed.

"This intrinsically safe LED flashlight is extremely versatile, offering dual spot and flood beams from the impact resistant yet compact high strength polymer housing," said Robert Bresnahan of LXFlashlights.com. "The explosion proof dual mode flashlight offers a long runtime due to the LED's low amp draw, providing a light weight chemical resistant handheld light with a low price point compared to other intrinsically safe flashlights."

For more information about Larson Electronics or other flashlights, click here to go to Utility Products' Buyers Guide.