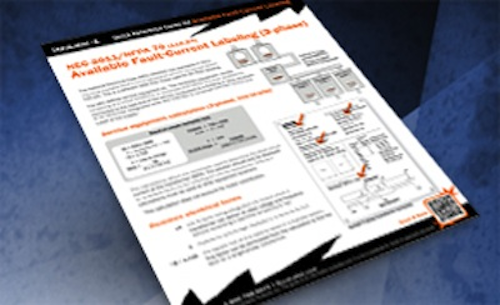 Portland, Ore.—Graphic Products Inc., a safety and industrial label printer and supplier, has released three new FREE labeling guides for facility and plant managers worldwide:

Available Fault Current Labeling Guide: Provides an overview of the National Electrical Code Article 110 labeling requirements, recently updated in 2011. This guide contains information about required NEC compliant labels and includes labeling examples. It also highlights the method used to calculate available fault current, which must be displayed on labels.

OSHA HazCom 2012 Best Practices Guide for Labeling: Reviews the U.N.'s Globally Harmonized System of Classification and Labeling of Chemicals (GHS) standards. OSHA's recent decision to adopt GHS standards means changes for most facilities as soon as December 1, 2013. This guide keeps you ahead of the curve by training your workers on OSHA-GHS standards before the deadline.

SDS Quick Reference Labeling Guide for HazCom 2012: Provides information on the U.N. Safety Data Sheet (SDS) format, which is replacing the old MSDS format. SDS is globally recognized. These sheets are an important element of the new GHS labeling standards. Use this guide to learn about SDS formatting and train workers before the December 1, 2013 deadline.

Graphic Products, Inc. launched the DuraLabel labeling system to facilitate pipe marking, OSHA/safety labeling, wayfinding signs and labels, arc flash, lockout/tagout, mine safety, wire marking, barcoding, and floor marking.
For more information about Graphic Products or other label printers, click here to go to Utility Products' Buyers Guide.