TMC2 and TMC2X cable glands are cost effective
Appleton's cable glands reduce installation time for jacketed metal clad cable.


Jan 6th, 2012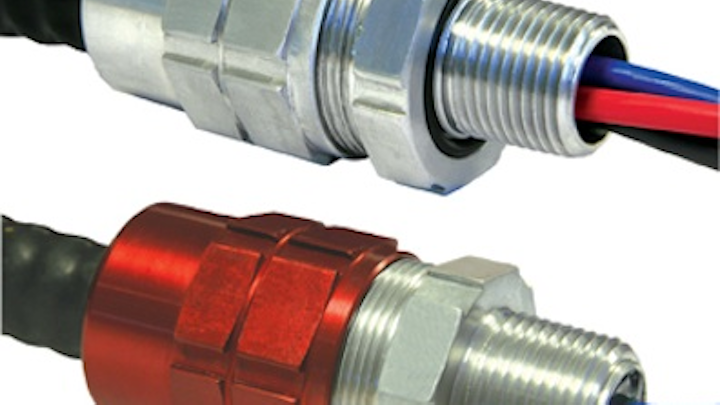 Rosemont, Ill.—Appleton, a hazardous location electrical equipment company, has introduced a better, faster and more cost-efficient way to connect jacketed metal clad cables.

New Appleton TMC2 and TMC2X cable glands are engineered specifically for heavy-duty industrial applications. They securely terminate interlocked /corrugated aluminum or steel armor jacketed metal clad cables (Type MC/MCHL), and continuous welded armor cables (Type CLX or TECK) to form mechanical watertight connections, while also providing excellent ground continuity for cable armor.

The glands feature an integral "O" ring face seal for 4X and IP68 rated protection in corrosive, wet locations. An additional Integral Deluge proof seal is available for extreme offshore and onshore environments.

Appleton TMC2 and TMC2X cable glands are available in trade sizes from 1/2-inch to 4-inches with multiple cable O.D. ranges per hub size in either copper-free aluminum, nickle plated brass or stainless steel construction. Removable cable armor end-stops accommodate larger insulated conductors.

For more information about Appleton or other cable glands, click here to go to Utility Products' Buyers Guide.