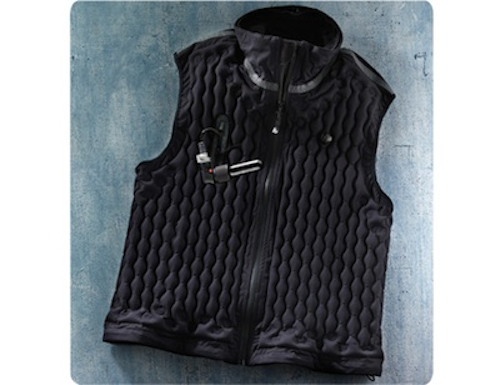 St. Paul, Minn.—Ergodyne's N-Ferno 6900 Warming Vest with NobleTek Insulation provides warmth, comfort, and flexibility—without the added bulk of natural or synthetic fiber.

The N-Ferno 6900 vest employs a breakthrough warming system using flexible, airtight, yet breathable chambers filled with Argon gas. The 4.5mm layer of Argon used by the vest has the same thermal conductivity as 14mm of the best synthetic or natural fibers currently on the market. Additionally, NobleTek insulation is the only insulation on the market that gives users the power to adjust their level of warmth with the turn of a dial.

Is an Argon-filled vest safe? Absolutely. Argon is a safe, non-toxic, non-flammable, 100 percent eco-friendly gas. In fact, you breathe about 1 percent Argon every day because it occurs naturally in the environment.

Available at all authorized Ergodyne distributors, the N-Ferno 6900 Warming Vest with NobleTek Insulation is designed for cold-environment workers needing to stay warm and productive on the job.
For more information about Ergodyne or other warming vests, click here to go to Utility Products' Buyers Guide.