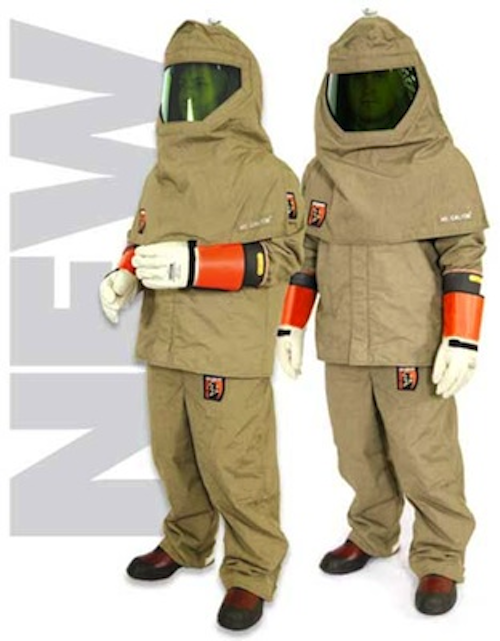 Salisbury by Honeywell's NEW Premium Light Weight 40 cal/cm(2) Arc Flash Protection suit has a total fabric weight of 11 oz/yd(2). This is much lighter than Salisbury's standard HRC 4 suit with a total fabric weight of 18.5 oz/yd(2). This material is the lightest available and meets all the necessary standards to keep you safe from arc flash. Keep cooler and improve worker comfort without compromising safety.

• Complies with NFPA 70E HRC4
• Meets ASTM F1506-02A
• Meets ASTM F1959M/F1959M-99
• Made from synthetic fiber blend
• FR for the life of the garment
• Available individually (coat, hood, overalls) or in kits
• Heat Attenuation Factor of 93.20 percent (meaning the garment is not only flame resistant, but resists 93.2 percent of the heat experienced in an arc flash)

The Salisbury Advantage

• 11 oz/yd(2) total fabric weight – lightest in the industry
• Added ease of movement
• Keeps user cooler longer
• PRO-HOOD includes the most transparent lens available
• Integrated cooling system available for PRO-HOOD
• Longer coat creates better body coverage while working overhead
• Adjustable gussets on overall cuffs
For more information about Salisbury by Honeywell or other arc flash protection suits, click here to go to Utility Products' Buyers Guide.