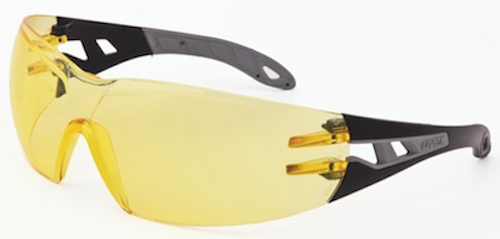 Smithfield, RI—Honeywell Safety Products has unveiled Uvex Pheos safety glasses, which combines streamlined styling with technologically advanced materials to deliver high-performance protection. The eyewear's frameless design features duo-spherical lenses for unparalleled optical quality and superior all-around coverage. The dielectric style comes with Uvex Dura-streme dual action anti-fog, anti-scratch coating for exceptional versatility and value. Available in two sizes and three lens tints, Uvex Pheos is designed to fit the workforce and perform to perfection in nearly every application.

"Uvex Pheos eyewear delivers the attractive styling workers want with the coverage and protection they require," said David Iannelli, senior product manager for Honeywell Safety Products. "It's an impressive combination of innovative materials, advanced optics and proprietary coatings seamlessly engineered into one lightweight, extremely stylish product. Workers can feel good about wearing Uvex Pheos eyewear all day long—and that helps encourage a safer workplace environment."

The style's duo-spherical lenses offer exceptional optics and its integrated brow guard enhances coverage and protection. Innovative dual-material technology is incorporated into an extremely thin temple profile for stable, cushioned support that fits comfortably even when worn with other personal protective equipment. A unique temple design allows for increased airflow to resist lens fogging, and a slot in the temple tip simplifies the attachment of hang cords or corded ear plugs. Regular and Slim sizing options ensure a secure and comfortable fit across the workforce.

Uvex Pheos eyewear is available in Clear, Gray and Amber lens tints to meet the needs of most environments. Dura-streme lens coating improves durability, prolongs lens life by up to three times and ensures long-term optical clarity even in hot and humid environments. Uvex Pheos eyewear contains no metal parts to deliver dielectric performance. Like all Uvex styles, Uvex Pheos offers 100 percent ultraviolet protection and meets the ANSI Z87.1-2010 standard for impact protection.

For more information about Honeywell Safety Products or other safety eyewear, click here to go to Utility Products' Buyers Guide.