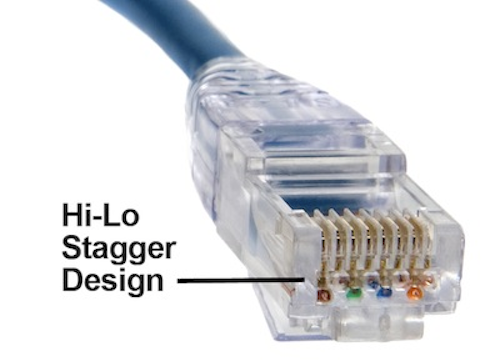 Camarillo, Calif.—Platinum Tools, a provider of solutions for the preparation, installation and hand termination of wire and cable, announced their new Hi-Performance Cat5e and Cat6 standard modular plugs are now shipping.

"The Hi-Performance Cat5e plug, with its unique Hi-Lo stagger design, isolates each conductor at the point of termination," explained John Phillips, Platinum Tools, Inc. product manager. "This allows air, the world's best insulator, to surround each conductor and thus eliminates NEXT, FEXT and AXT. The end result is performance beyond certification requirements. Plus, the internal conductor channels make for easy prep without the need for liners." The round-solid three-prong plug is UL rated (RoHS), FCC compliant, utilizes gold-plated contacts (50u), and is also available in round-stranded.

Platinum Tools' Hi-Performance Cat5e and Cat6 Modular Plugs combine traditional/standard style modular plugs for terminating cables in telephone and data applications. Manufactured to comply with FCC 68 guidelines and UL listed. Multiple position, contact configuration styles and round cable versions are available. Gold-plated contacts provide reliable performance and long life.

For more information about Platinum Tools or other modular plugs, click here to go to Utility Products' Buyers Guide.