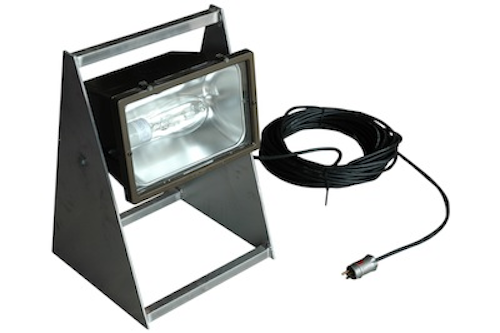 Kemp, TX — A high power work light for hazardous area situations — Larson Electronics' Magnalight.com' portable 400-watt metal halide hazardous area rated pedestal mount work light is now available. Designed for high output, portability and compliance with Class 1, Division 2 hazardous location regulations, the EPL-PM-1X400MH-100 metal halide hazardous location work light illuminates 25,000 square feet of work area and is suitable for wet locations. The compact size and 100-foot long cord of this unit combined with the pedestal base with built in carry handle provides operators in hazardous locations with an easily deployed and highly versatile source of portable illumination.

The high power EPL-PM-1X400MH-100 metal halide hazardous area work light is a portable Class 1, Division 2 source of illumination that doesn't sacrifice power for portability. This industrial grade hazardous area work light produces a 36,000-lumen flood beam of light using a 400-watt metal halide lamp and effectively illuminates 25,000 square feet of work area. The metal halide lamp assembly contained in this unit is approved for Class 1, Division 2 locations and has a weatherproof cast aluminum housing fitted with a hinged tempered glass door that is heat and impact resistant. The high performance ballast is sealed within the lamp housing and operates on voltages of 120 to 277 Vac for convenient connection to standard wall outlets. Lxlite.com also provides optional 480V and 220V configurations to allow operation with high voltages as well. The pedestal base on this portable explosion proof light is constructed of light weight aluminum and includes an integral carrying handle for easy transport of the unit from one location to another. The heavy-duty pedestal base provides high stability on flat surfaces and an adjustable lamp bracket lets operators adjust the vertical positioning of the lamp within the mounting platform for optimal light placement.

This high power work light carries Class 1, Division 2, groups C and D approval, UL approval for wet area use, and certification for use in marine type environments. This powerful and versatile metal halide work light is an ideal lighting solution for operators working in environments where Class 1, Division 2 certification is required and native lighting is unavailable. These units provide an effective solution for areas where unusual or abnormal hazardous conditions may occur in normally safe locations.

"This explosion proof light is light-weight and easy to carry up ladders and scaffold while producing 36,000 lumens, making it ideal for workers who need a portable light without sacrificing lighting output," said Rob Bresnahan with Larson Electronics Magnalight.com. "The EPL-PM-1X400MH-100 pedestal mount light provides illumination to 25,000 square feet of work area while carrying a Class 1, Division 2 approval assures protection against inadvertent ignitions."

Larson Electronics produces a full range of metal halide floodlights, explosion proof work lights, portable work lights, intrinsically safe light, and LED trouble lights.

For more information about Magnalight.com or other hazardous area lighting, click here to go to Utility Products' Buyers Guide.