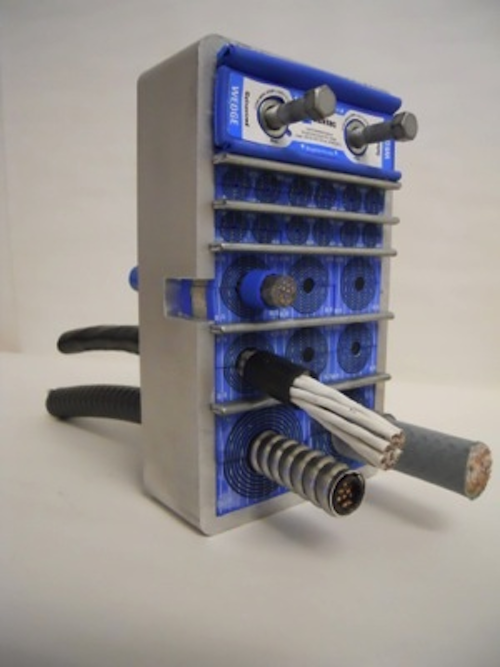 Sweden—The Roxtec BG bonding and grounding cable and wire entry system is a one-of-a-kind cable entry system designed to seal large and small quantities of metal clad or armored cables using minimal space. When used in building structures, cabinets, and enclosures, BG is proven to eliminate costs by significantly reducing design and installation time—while also providing optimum electrical safety and protection to people and equipment. The BG cable entry system provides additional protection against weather, blasts, rodents and fire.

BG products are up to 70 percent more area efficient than conventional cable glands and function successfully as a direct replacement to glands for terminating metal clad and armor cable types.

Roxtec BG solutions provide added flexibility in design while improving timing of project and equipment delivery. Adaptability to cables of different sizes with removable layers allows users to specify and design cable entries before and after final cable schedules are complete. If the cable schedule changes in the field, the installer simply adjusts the modules for a perfect fit.

For wall, floor, and bulkhead cable penetrations, the new BG system is fire rated as well as gas-and-watertight. BG is the only multi-cable transit system certified to meet all major electrical schemes with bonding and grounding for low to high voltage applications. It is also certified for hazardous locations (Ex) and suitable for lightning protection.

For electrical, control and instrumentation cabinets, Roxtec BG solutions provide IP 66/67, NEMA 4, 4x and hazardous location (Ex) certifications.

For cabinets and electrical enclosures, Roxtec BG solutions allow for the size and weight of cabinets to be greatly reduced.

For more information about Roxtec or other bonding and grounding cable and wire entry systems, click here to go to Utility Products' Buyers Guide.