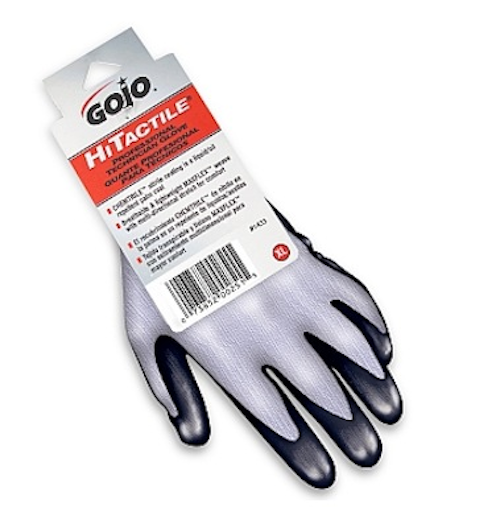 Akron, Ohio—Professional Technician Gloves are designed to provide protection against cuts and lacerations in applications where dexterity and hand protection are both critical. The premium GOJO HITACTILE Professional Technician Gloves feature a CHEMTRILE Nitrile palm coat that repels oils and liquids. They have a breathable and lightweight MAXFLEX weave with multi-directional stretch for comfort as well as ergonomically shaped fingers for excellent fit and dexterity. Extended cuffs deliver a snug fit with additional wrist protection.

"At GOJO, we've always believed that a technician's most valuable tool is his or her hands, and while our complete line of hand hygiene products effectively cleanse and condition the skin, GOJO HITACTILE gloves take high-performance hand protection one step further," said Diana Costanzo, vice president of sales, automotive. "These durable gloves are longer lasting than Latex or Nitrile gloves, plus they're reusable and machine washable, making them an excellent value for technicians."

The GOJO HITACTILE Professional Technician Gloves, which are available in large and extra-large sizes, are available at select auto parts retailers and hardware stores.

For more information about GOJO or other gloves, click here to go to Utility Products' Buyers Guide.