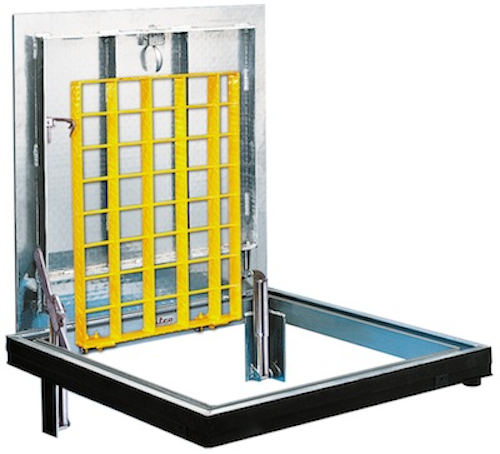 New Haven, Ct.—The Bilco Co., manufacturer of specialty access products, has released its redesigned fall protection grating system. The system provides a permanent means of fall protection for the company's line of single and double leaf floor access doors and meets OSHA standard 29 CFR 1910.23 requirements.

Bilco's new fall protection system is constructed of light-weight aluminum grating and stainless steel hardware for corrosion resistance. The grating panel is supplied with a safety yellow powder coat finish, making it more durable, attractive, and extremely scratch-resistant. The system also features a stainless steel hold-open device that secures each panel in the full 90O position, maximizing the door¹s usable access area.

The system is available on all standard size 300 PSF and H-20 reinforced access doors and can be supplied on custom size doors when specified. Retrofit kits are also available for installation on existing Bilco products in the field.

For more information about Bilco or other fall protection, click here to go to Utility Products' Buyers Guide.