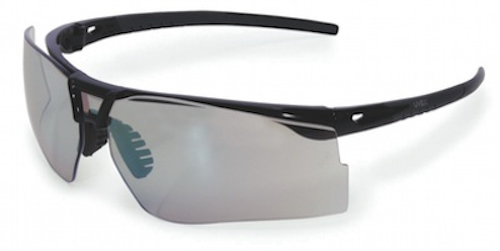 Smithfield, R.I.—Honeywell Safety Products has launched Uvex Bayonet safety eyewear, which combines high-performance protection with comfortable, sport-inspired styling. The design of Uvex Bayonet eyewear provides substantial coverage and unobstructed vision for excellent impact protection and performance. Built with the quality and innovation of the world's leading protective eyewear brand, Uvex Bayonet also features proprietary Uvex lens tints for maximum versatility and Supra-Dura lens coating for longer service life, making it an excellent fit for nearly any safety eyewear program.

Available in seven lens tints—clear, gray, amber, silver mirror, SCT-Reflect 50, SCT-Gray and SCT-Low IR—Uvex Bayonet is ideally suited for use in nearly any lighting application. Like all Uvex lenses, those found in Uvex Bayonet offer 99.9 percent protection from ultraviolet light. Uvex Bayonet is also available in two proprietary Uvex lens coatings: Supra-Dura and Uvextreme AF. Supra-Dura advanced anti-scratch coating delivers five times more scratch resistance than other coatings on the market, significantly prolonging the life of the lens.

Uvextreme AF anti-fog coating ensures long-lasting anti-fog performance under the most extreme conditions. Permanently bonded to the lens, Uvextreme retains anti-scratch, anti-static and UV protection properties that will not wear off. The eyewear meets ANSI-Z87.1-2010 and is certified to the requirements of the CSA Z94.3 standards for impact protection.

"Uvex Bayonet delivers the utmost in protection, comfort and durability to serve workers across myriad environments for a longer period of time," said David Iannelli, senior product manager for Honeywell Safety Products. "Furthermore, its sporty design addresses workers' need to look good and feel good on the job - attributes that are proven contributors to a greater culture of safety."

The sleek styling details of Uvex Bayonet eyewear such as tapered temples and a sport-inspired lens shape encourage worker acceptance, while its many comfort features encourage all-day wear. Weighing less than one ounce, the style's soft temple inserts cushion the delicate areas above and behind the ears to provide a secure, comfortable fit. The soft, flexible nosepiece conforms to a variety of nasal profiles to minimize slippage. The unique Floating LensT design allows the browbar to flex for an accurate fit without compromising optics.

For more information about Honeywell Safety Products or other safety eyewear, click here to go to Utility Products' Buyers Guide.