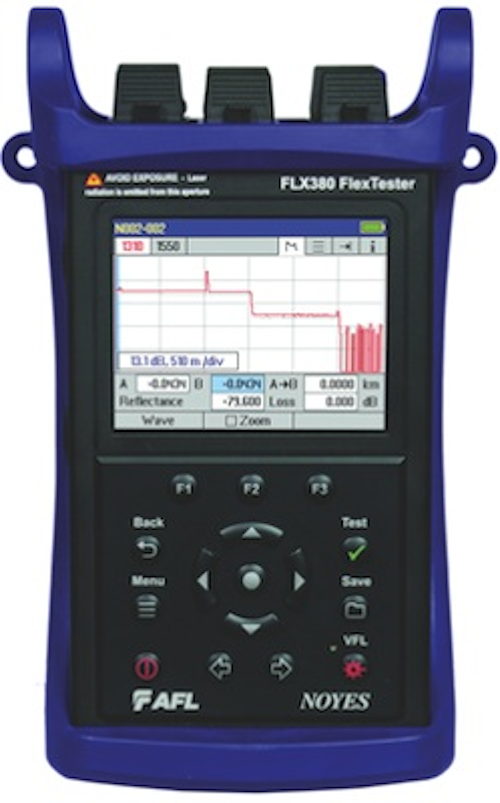 Spartanburg, S.C. and Lowell, Mass.—AFL is launching the new NOYES FLX380 FlexTester family of high‑performance, PON-optimized, multi‑function optical time-domain reflectometers (OTDRs). Equipped with fast, low‑noise circuitry that delivers best‑in‑class dynamic range at the 30 - 300 ns pulse widths needed for FTTx PON access networks, the FLX380 can be used in both multi-dwelling installations with short drop fibers as well as outside plant FTTx distribution network spans as long as 20 km. Delivering up to 41 dB of dynamic range and event, attenuation and PON deadzones of 0.8, 3.5, and 35 m, respectively, the FLX380 FlexTester is well-suited for PON installation and maintenance tasks.

"Testing through 1:32, 1:64 or cascaded 1:8 splitters requires high dynamic range. However, some OTDR manufacturers quote dynamic range specifications based on relatively long 10 or 20 µs pulse widths," explains Mike Scholten, senior product marketing manager AFL's NOYES Test and Inspection Division. "A 20 µs pulse will have a deadzone that hides 30% of a 10 km PON, making it impossible to see events on short subscriber links. We've optimized the short pulse width performance of the FLX380 FlexTester to enable users to locate loss or reflection events on short subscriber links."

The FLX380 FlexTester family includes the FLX380-100, a 1310/1550 nm OTDR designed for out-of-service verification testing, the FLX380-102, a 1310/1490/1550 nm OTDR with expanded wavelengths and the FLX380‑103, a 1310/1550/1625 nm OTDR that includes ServiceSafe Live PON OTDR with integrated PON Power Meter. All models integrate the OTDR, Optical Power Meter, Optical Light Source and Visual Fault Identifier into a rugged, handheld package weighing less than 2 pounds (0.84 kg). FLX380 FlexTesters offer instant-on power up and provide over 12 hours of continuous testing from the rechargeable, user-replaceable Li‑Ion battery pack.

For more information about AFL or other OTDRs, click here to go to Utility Products' Buyers Guide.