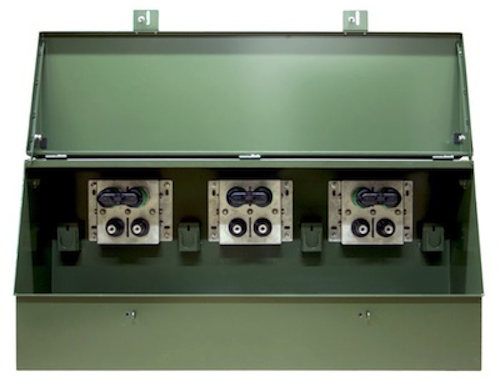 Waukesha, WI — A loadbreak connector system from Cooper Power Systems has expanded application. The Clēēr Loadbreak Connector System has been expanded beyond vaults to include pad-mounted applications using the new Clēēr SecTER Cabinet. In addition, both the 600 amp loadbreak connector and SecTER cabinet have been granted Rural Utility Service (RUS) acceptance, making it easier for rural cooperatives to gain purchase approval with federal funding.

Functioning as a cable sectionalizing center, the Clēēr SecTER Cabinet helps reduce outages by providing the ability to isolate a loop or section of cable to limit the number of customers affected while cable repairs are being made. As the only 600 amp connector system available in the industry capable of breaking load, the Clēēr system offers efficiency, reliability, and increased functionality when used for sectionalizing, splicing, or in-line with switchgear. The Clēēr system offers customers a less expensive and lower profile alternative to air insulated switchgear without having to de-energize, un-bolt 600 amp terminations, or move heavy cables. In addition, the system offers a quick and traceable means of achieving visible break and visible ground.

For operators working on a piece of energized equipment, the patented Clēēr loadbreak connector system is cited to provide peace of mind through visible, front panel circuit traceability. With the new SecTER cabinet, the company provides the option to install the connector system anywhere the capability to isolate a loop is desired, increasing system reliability and efficiency.

In addition to a wide range of features, both the Clēēr Loadbreak Connector System and Clēēr SecTER Cabinet have received RUS acceptance from the United States Department of Agriculture (USDA). This acceptance certifies the high-quality, long-lasting nature of the Clēēr product line for use in furnishing or improving electrical service in rural areas.
For more information about Cooper Power Systems or other loadbreak connector systems, click here to go to Utility Proudcts' Buyers Guide.