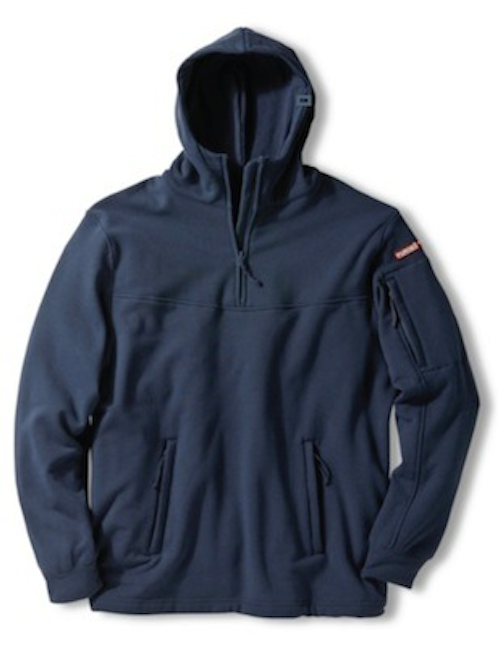 Santa Barbara, Calif.—Purnell, a recently launched brand of workwear, has unveiled the Spring 2013 Men's Tech line, the company's first complete collection of men's flame resistant (FR) workwear. The clothing is engineered and designed expressly for tradesmen and personnel working in highly active roles, often in extreme environments in fields such as wind, electrical and other energy industries, as well as law enforcement and the military.

"We've eliminated the bulk of standard workwear while providing the flame resistance and durability that are must-haves for industrial athletes and requirements for certain industries," states Brita Womack, President of Purnell. "We¹ve incorporated functional and design elements from outdoor performance apparel to create a new generation of workwear for industrial athletes tired of fighting against their clothing to be productive."

The Harness Hoodie FR, one of the Spring 2013 Men's Tech items, is a prime example of Purnell¹s meticulous design and construction. The hoodie was created through an evolutionary product design process that was mindful of the needs of highly active workers who often must wear safety harnesses. The garment is constructed of very comfortable, flexible Polartec FR fabric and is four times more wind resistant than standard fleece. It features drop-seam shoulders, so that there's no seam under the safety harness. Carefully placed, zippered front pockets offer safe-keeping of and easy access to items needed during climbing or in the midst of active motion on the job. The hoodie is engineered for total comfort and functionality.

According to Mike Messier, V.P. of Training for Airstreams Technical Institue and a professional familiar with Purnell's innovative Men's Tech line, workers in industries such as wind energy have long awaited clothing solutions to aid in productivity by making working conditions more tolerable.

"Purnell has come through for guys who really need it," Messier states. "It's about time... We finally have a clothing company that understands what our guys wear out in the elements is key to their safety and productivity."

The Spring 2013 Men's Tech line includes three hoodies, three workshirts and two work pants options. The line offers selections to meet the range of NFPA 70E safety standards for arc flash protection. Employers are responsible for determining the level of protection required for their specific work scenarios.

For more information about Purnell or other workwear, click here to go to Utility Products' Buyers Guide.