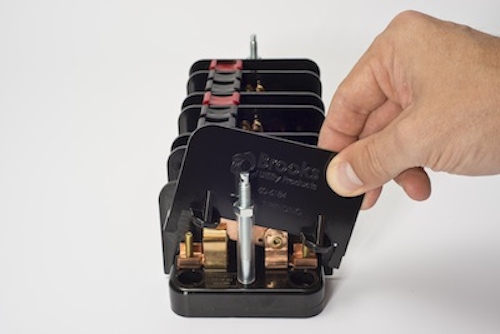 Brooks Utility Products, a supplier of metering security products for the electric utility industry, introduces its test switch barrier product. The new switch barriers allow utilities to easily install safety barriers to currently installed test switches—instead of completely replacing the switches to conform to the new American National Standards Institute (ANSI) standards.
The pending ANSI C12.09 standard answers a growing safety concern of separating voltage switches when adjacent to current switch or to another voltage switch at a different potential. The new standard is expected to take effect as early as the end of 2012.
Beginning in January 2013, Brooks will also begin supplying new test switches with end barriers installed to conform to this new ANSI safety standard.
For more information about Brooks Utility Products or other test switch barriers, click here to go to Utility Products' Buyers Guide.