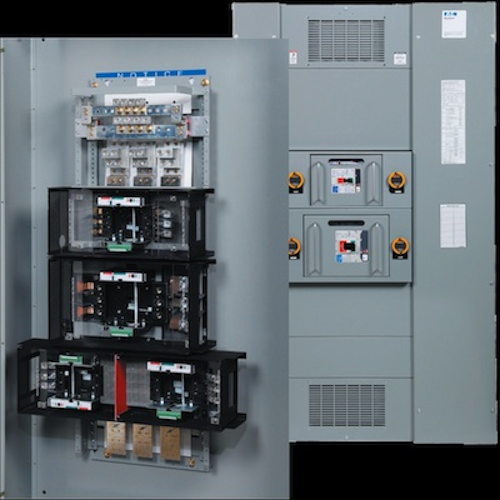 Pittsburgh—Diversified industrial manufacturer Eaton Corporation has announced the introduction of a new circuit breaker maintenance solution that provides completely front-accessible and front-connected equipment with ease of maintenance, enhancing productivity and operational uptime while minimizing the total footprint of distribution equipment. The new two- and three-pole molded-case circuit breakers (MCCBs) come in a mechanical drawout design in panelboards and switchboards.

The Eaton drawout MCCB switchboard and drawout MCCB panelboard may be substituted for nearly any traditional application, but have been specifically designed to meet the needs of mission critical industries that desire maximum uptime to protect critical loads, data integrity, and operational continuity.

"The new drawout MCCB compatible distribution equipment will give businesses confidence that their mission critical operations will experience lower downtime, decreased physical footprint and simplified maintenance," said Clayton Tychkowsky, senior vice president and general manager, Commercial Distribution and Control Assemblies Division, Eaton Corporation.

On both units, drawout feeder MCCBs are available in two- and three-pole offerings from 20 Amps (A) to 600A. Breakers on the drawout MCCB units are inserted and removed via a mechanical removal system similar to other drawout designs associated with switchgear; however, these breakers are horizontally mounted in a traditional panelboard group mounted manner, providing greater density and reduced space.

The MCCBs are designed with a drawout cassette that has two distinct parts. The cassette ³base² is specially designed so that the lineside connections to the panelboard or switchboard¹s vertical bus and the loadside connection to the feeder conductors can be permanent. The "drawout" cassette allows the breaker and any breaker accessory connections to be removed.

The drawout cassette incorporates a viewing window allowing personnel to visually inspect the breaker status and includes a position indicator on the base cassette. An external racking port allows access to the racking mechanism to draw out the breaker, while handles attached to the deadfront help easily remove the breaker. A pigtail wiring harness, factory-wired from the breaker accessory ports, contains a pull-apart terminal block that attaches the permanently mounted female terminal block located on the base cassette.
For more information about Eaton or other circuit breaker maintenance solutions, click here to go to Utility Products' Buyers Guide.