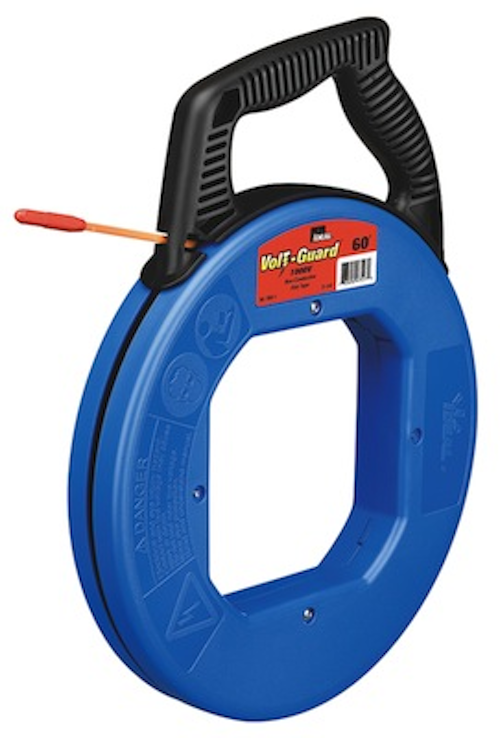 Sycamore, Ill.—The IDEAL Volt-Guard is the first fish tape to incorporate 1000V non-conductive fiberglass into a stiff rectilinear tape design, resulting in better pushing power than other non-conductive tapes.

Recognizing the dangers of working around live circuits, IDEAL engineered the Volt-Guard to be rated non-conductive to 1000V, meaning the fiberglass wire is safe for use in most commercial and industrial conductive systems. A fiberglass eyelet replaces the standard metal eyelet, protecting both the electrician and the system, while also sliding easily through the tightest conduit bends.

The new tape is enclosed within IDEAL's patented Tuff-Grip Pro case. Constructed of polypropaline plastic to allow for thicker, stronger, yet lighter walls, the Tuff-Grip Pro has passed repeated drop testing from up to 20 feet in a wide assortment of environmental conditions, including freezing weather, to conclusively demonstrate its impressive strength.

The grooved, non-slip handle allows for a safe grasp even when wet, plus is oversized to comfortably fit thick work gloves, including rubber-insulated arc flash gloves.

IDEAL Volt-Guard fish tape is immediately available in 60-foot (#31-542) and 120-foot (#31-544) versions. Replacement tapes are also available.
For more information about IDEAL or other fish tape, click here to go to Utility Products' Buyers Guide.