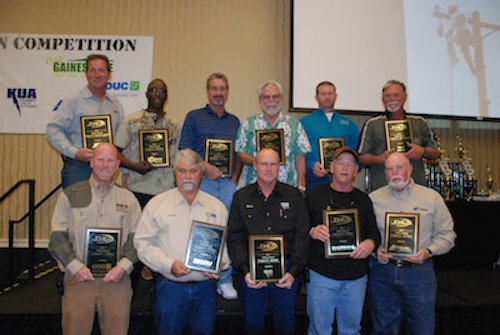 Orlando, Fla.—The Florida Municipal Electric Association (FMEA) awarded OUC–The Reliable One with a first-place safety award for continued commitment to safe work practices during the past year.

"At OUC, safety is a top priority. While we strive to be The Reliable One, we also must be The Safe One," OUC General Manger & CEO Ken Ksionek said. "Every day we stress the importance of making sure our employees return home safely to their families."

OUC was awarded first place in category E, which comprises utilities with 1,000,000 to 2,499,999 man-hours worked. This recognition reflects OUC's commitment to protecting workers' safety, while also ensuring reliable electric service to the customers. In an industry where serious injuries and fatalities are inherent, safety training is the best line of defense in preventing accidents and saving lives.

For the past 25 years, FMEA has recognized the efforts of Florida's municipally owned utilities to stress worker safety as the No. 1 priority. Utilities are placed into categories according to their total man-hours worked and rewarded for the most incident-free records. The incidence rate used to judge utilities was based on the number of work-related reportable injuries or illnesses compared to the total number of worker-hours during 2011, as defined by the Occupational Safety and Health Administration (OSHA).

Awards were presented March 31 at the FMEA Annual Safety and Florida Lineman Competition Awards banquet in Gainesville. Lead Line Technician Chris Wohlfart accepted the award for OUC. The banquet was the culmination of a two-day event that included technical skills training and the 12th annual Florida Lineman Competition. OUC's team of line technicians—James Alexander, Richard Boley and Chris Hosier—placed first overall in the competition.
For more information about FMEA/OUC or other safety products/awards, click here to go to Utility Products' Buyers Guide.