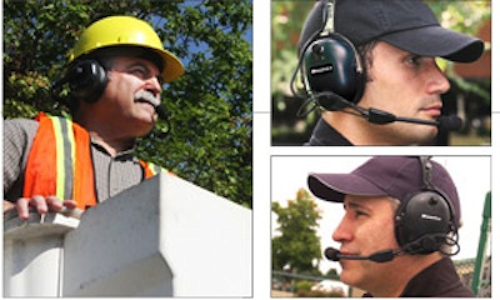 Portland, Ore.—Sonetics, a rugged wireless team communication systems company, has announced the immediate availability of pre-configured wireless systems that allow small teams to benefit from a combination of continuous hands-free, full-duplex communication and hearing protection. The Small Team Communication (STC) systems consist of two to four completely wireless headsets and an ultra-portable MiniHub for applications such as utility and construction crews, traffic management, heavy recovery, tree trimming and logging, survey crews, print shops, warehouses, fork lift drivers and more. Teams can enjoy up to 800 feet of range, 24dB of hearing protection and 12 hours of operation per battery charge.

At the center of the system, the MiniHub manages continuous secure digital wireless communication among up to four users while measuring only 4 inches high and weighing just 8.1 ounces. With an internal battery and charging circuit, the MiniHub charges from 12VDC or a 110VAC wall unit in two hours and can be placed on the dashboard of a truck or attached to equipment. The rugged MiniHub is designed for challenging environments, with no external wires or antennas to break or snag, substantially improving reliability.

Sonetics systems keep both hands free for task work, which improves productivity and safety on the job. Headsets are self-contained and fully wireless, with no external antennas, cables, or belt packs to snag or tangle. STC systems use 1.9 GHz DECT6 communication technology to deliver over seven times the coverage of Bluetooth systems and avoid interference from other equipment or radios. Ruggedly designed for operation in all kinds of weather, STC systems include a two-year warranty, with up to five years of coverage available through Sonetics ComCare services.

For teams currently using wired headsets, STC systems offer complete mobility without the continual repairs associated with headset wires. For larger teams, or those requiring integrated radio communications, Sonetics offers a complete range of compatible portable, fixed and vehicle-mounted wireless communication solutions for up to 60 crew members.

"Our Small Team Communication systems bring the benefits of wireless communication to work teams in a simplified and cost-effective way," said Sonetics Chief Operating Officer Reed Stager. "We anticipate that large numbers of new customers will benefit from the enhanced communications, productivity and safety that these systems provide."
For more information about Sonetics or other communication systems, click here to go to Utility Products' Buyers Guide.