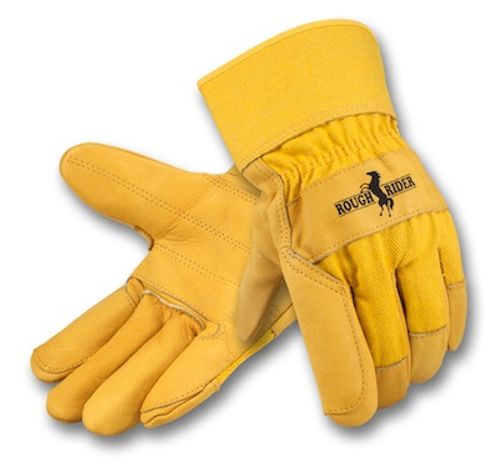 Mansfield, Mass.—Galeton, a supplier of fine quality gloves and work gear, has recently introduced Rough Rider Grain Leather Double Palm Gloves with an extra layer of leather over the palm for added protection.

Extremely durable and ideal for heavy work conditions, the Rough Rider Grain Leather Double Palm Gloves feature safety cuffs for easy on and off, heavy canvas backs and rubberized cuffs. Additionally, the glove is available with a longer Gauntlet cuff for jobs where additional forearm protection is needed.

For more information on these or any of Galeton's gloves or work gear, please visit www.galeton.com and search item 11263.

Since 1908, Galeton has been a leading supplier of fine quality gloves and work gear at great prices for manufacturing, commercial industry, construction, contractors , as well as federal, state and local government facilities. Built around its catalog, website, unique product line, and legendary customer service, the company continues to expand to meet the growing needs of its customers.

Not only does Galeton offer a wide variety of gloves ranging from premium quality to economy-line, but its 164 page catalog features a broad selection of exclusive brands and unique products. Their wide selection also includes high visibility work wear, disposable apparel, coveralls, safety glasses, work boots, fall protection gear, coats, hard hats, respiratory, hearing and face protection, as well as other personal protection and safety equipment items – all designed to help keep the worker safe, comfortable and productive on the job.

For more information about Galeton or other work gloves, click here to go to Utility Products' Buyers Guide.