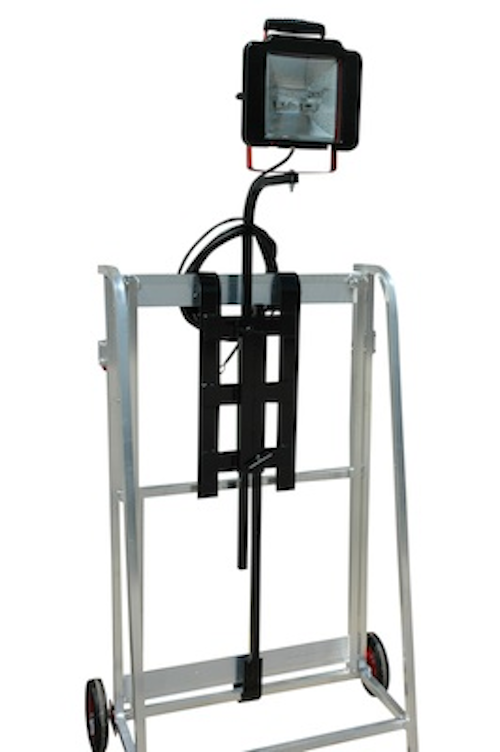 Magnalight.com has announced the release of the WAL-JHEQ-LV-25 low voltage work light with ladder or scaffold mounting bracket to its line of portable low voltage work lighting solutions. Designed to provide an easy to mount light source for those who work with scaffolding and temporary construction site rail frames, this quartz halogen light operates with low voltage 12 or 24 volt DC current for convenient power connections where normal 120 VAC is impractical or unavailable.

The Magnalight WAL-JHEQ-LV-25 low voltage work light provides a highly versatile and convenient source of low voltage illumination for workers who frequently utilize scaffolding and similar structures on the jobsite. Consisting of a heavy duty quartz halogen lamp mounted to an adjustable J-type bracket, this portable work light can be mounted to a wide variety of railings, scaffolds, steel frames, and similar structures for effective illumination of the task space. The adjustable light mounting bracket is designed to adjust from 26 inches to 43 inches to allow fitting to different sized scaffolds or ladders, and an adjustable center support allows the operator to raise the lamp up to 3 feet higher than the mounting location. This allows operators who mount the unit to railings that are waist high to raise the unit high enough to better illuminate the work area and reduce glare. The halogen lamp is fully adjustable, with 90 degrees of vertical tilt and 360 degrees of pivot rotation. These portable work lights are available in two configurations; either a 150 watt 12 VDC configuration which will illuminate 1,400 square feet, or a 300 watt 24 VDC configuration that will illuminate 1,900 square feet. The lights come with 25 feet of cord, and are available with three different power connection options including a cigarette plug, ring terminals, and battery clamps for connecting to various types of power sources.

"The WAL-JHEQ-LV-25 is a 12/24 volt version of our new scaffold mount work light that allows operators working on scaffolding and ladders to have excellent illumination in their work area," said Rob Bresnahan with Larson Electronics' Magnalight.com. "This unique design allows operators to use scaffolding or ladders as mounts for their work area lights. These low voltage quartz work lights can be powered by sealed lead acid batteries or a low voltage transformer."

Larson Electronics' Magnalight.com carries an extensive line of portable work lights, hazardous location lights, LED lights, portable explosion proof lights, and portable LED work lights.

For more information about Larson Electronics' Magnalight.com or other work lights, click here to go to Utility Products' Buyers Guide.