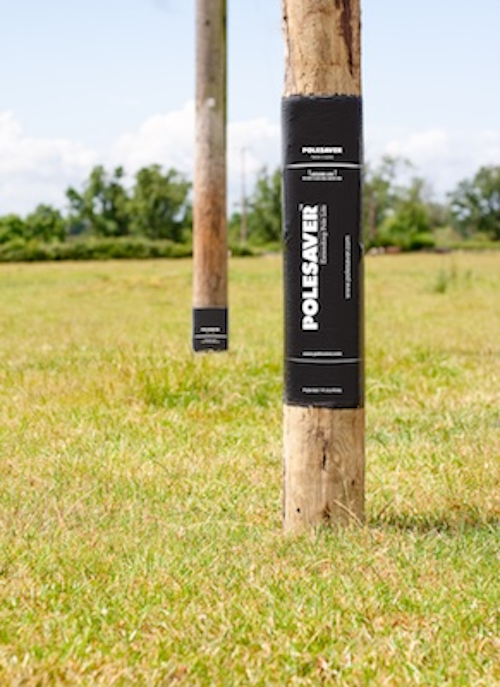 Polesaver is a special sleeve that is designed to double the service life of a timber utility pole by acting as a barrier to the causes of ground decay. It is a patented dual layer barrier system, which keeps preservatives in and the causes of harmful decay out in order to protect the pole's vulnerable ground line section.

The non-toxic sleeve is low in cost and easily applied and not only suitable for new poles, but is also available as a retrofit product for use on poles already in service. Produced in a wide range of sizes, it can be safely used with all timber and preservative types including creosote, copper azole, ACQ, CCA and PCP.

The product has been independently tested by the Building Research Establishment (BRE) in long-term field trials, which prove that it significantly extends the life of timber in ground contact and product has been proved in service for the last 18 years in Europe and the USA.

According to Polesaver, millions of sleeves are already in service, providing problem-free protection to high value structural timber building supports and fence posts.

"The weak point of a pole is at the ground line where conditions for decay and rot are ideal, making it vulnerable to failure," explained Polesaver Technical Director Richard George.

"Utility poles are expensive to replace and any means of extending pole life will have significant cost benefits as well as reducing the risk of damage or injury as a result of failure in service," he added.

For more information about Polesaver or other utility pole sleeves, click here to go to Utility Products' Buyers Guide.