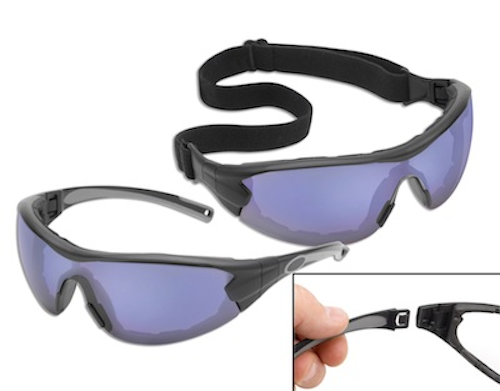 Workers who wear safety glasses all day long on the job know that fogging can be a major problem. While fogged lenses are annoying, they can also pose a serious threat to individual safety if the worker's vision is impaired or if he/she is removing eyewear to wipe the fog off.

Swap is a glasses-to-goggle eyewear solution designed by Gateway Safety to fight fog in several ways. First, the foam lining that surrounds the one-piece lens to block dust and debris includes venting channels that help reduce hot air buildup. Swap also features Gateway Safety's high quality anti-fog formula. Gateway Safety doesn't cut corners by watering its anti-fog coating down or by only coating one side of the lens. The Swap lens is fully dipped into the anti-fog formula, a process that coats both sides to help fight fog in the toughest way.

"Many safety professionals face compliance issues among their employees, and fogging is one more battle they have to fight," said Matthew Love, Gateway Safety Vice President. "We make all of our eyewear available in an anti-fog lens option, all treated with the same high-quality anti-fog coating process."

Swap is easily changed from spectacle to goggle by swapping the temples for the head strap with a simple snap. Both the temples and head strap are included: rubberized two-color temples for all-day comfort and a fully adjustable head strap to fit any size head. Swap is independently certified by Underwriters Laboratories to meet ANSI Z87.1+ and offers 99.9 percent UVA, UVB and UVC protection.
For more information about Gateway Safety or other safety eyewear, click here to go to Utility Products' Buyers Guide.