Interlocking receptacles offer high electrical performance
Appleton's new interlocked receptacles offer NEMA 4X corrosion resistance in compact form factor.


Feb 2nd, 2012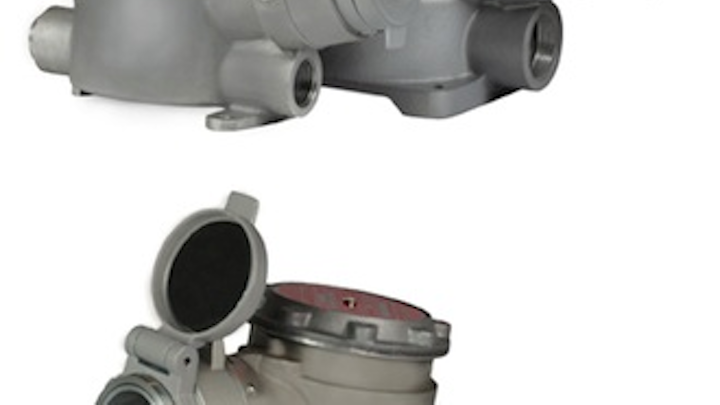 Rosemont, Ill.—Appleton, a hazardous location electrical equipment company, has expanded its Powertite line of plugs, connectors and recptacles with the new FSQC interlocked receptacle, offering NEMA 4X corrosion protection, superior electrical performance, and a highly compact form factor.

"Customers can now eliminate the expense and inconvenience of replacing receptacles that do not stand up to aggressive salt spray or corrosive chemicals by installing a fully finished, highly durable unit into an existing electrical system footprint," said Eric Goldberg, Director of Hazardous Products Marketing for Appleton. "If you are looking for compact, durable and safe receptacles for retrofit or to meet existing specifications for expansion projects, there is no longer any reason to settle for second best. Choose the Appleton FSQC and end the cycle of future replacements."

The compact footprint is suitable for applications where space is restricted and is ideal as a drop-in replacement for existing competitor FSQC receptacles.

Appleton delivers the major advantage of NEMA 4X protection to greatly reduce maintenance and replacement costs. A durable epoxy powder coat finish provides superior corrosion resistance. Competing products do not meet rigorous NEMA 4X requirements.

Appleton FSQC receptacles are supplied as standard with both spring door covers for convenient weather resistance (NEMA 3, 3R) and a screw-on cover for NEMA 4X applications. In addition, the receptacles are horsepower rated to meet the requirements of the most demanding electrical systems, such as lighting, heaters, air conditioners, pumps, compressors and motor generator sets. Auxiliary contacts are available on all models to enable the highest level of process control.

Appleton FSQC receptacles are UL listed for use with Appleton Powertite plugs as well as UL classified in specific combinations for use with competitors' plugs. They are UL listed and CSA certified for use in Class I Division 1 and 2, Groups B, C, and D, Class II Division 1 and 2, Groups F and G, as well as Class III areas.
For more information about Appleton or other interlocking receptacles, click here to go to Utility Products' Buyers Guide.