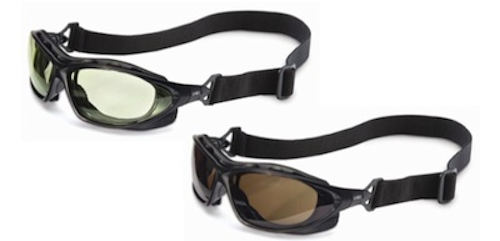 Smithfield, R.I.—Honeywell Safety Products has added two new lens tints to its Uvex Seismic Sealed Eyewear line. Delivering unmatched protection and safety against impact, wind, dust and debris, the Uvex Seismic is an excellent choice for dirty, high-particulate work areas. The addition of Uvex proprietary Spectrum Control Technology (SCT) tints in SCT-Gray and SCT-Low IR make this eyewear even more versatile, meeting the performance and functionality demands of a wider range of specialized applications.

Uvex Spectrum Control Technology incorporates unique dyes and tints that absorb select wavelengths of light into the polycarbonate lens to reduce spectral hazards or to provide distinctive filtration for specific viewing tasks. The combined protection and visual clarity provided by SCT lenses improves worker productivity and supports a workplace culture of safety.

Uvex Seismic eyewear featuring the SCT-Gray lens tint reduces solar glare while allowing true color perception. Special dyes make this lens a good choice for utility workers exposed to short-term electric arcs, where harmful levels of ultraviolet, infrared and blue light are present.

The SCT-Low IR lens tint offers high visible light transmission for indoor use around low-level IR hazards. The lens is ideally suited for indoor utility work where short-term electric arc hazards exist, as well as around welding and furnace operations where high-level infrared heat is present.

"The addition of these lenses makes Uvex Seismic Sealed Eyewear an indispensible part of safety programs in even more work environments," said David Iannelli, senior product manager for Honeywell Safety Products. Innovative design, maximum protection and a range of high-quality lenses come together in this style, giving workers the premier performance they deserve."

Uvex Seismic Sealed Eyewear can be worn with either temples or a headband to meet the needs of changing workplace environments. Soft, flexible nasal pads conform to a variety of facial profiles for a secure fit, and soft face cushioning and padded temple tips ensure all-day comfort. The eyewear is high- impact protection certified and meets ANSI Z87+ and CSA Z94.3 standards.
Uvex Seismic Sealed Eyewear with SCT-Gray and SCT-Low IR lens tints is available now through major safety equipment distributors in the U.S. and Canada.

For more information about Honeywell Safety Products or other eyewear protection, click here to go to Utility Products' Buyers Guide.