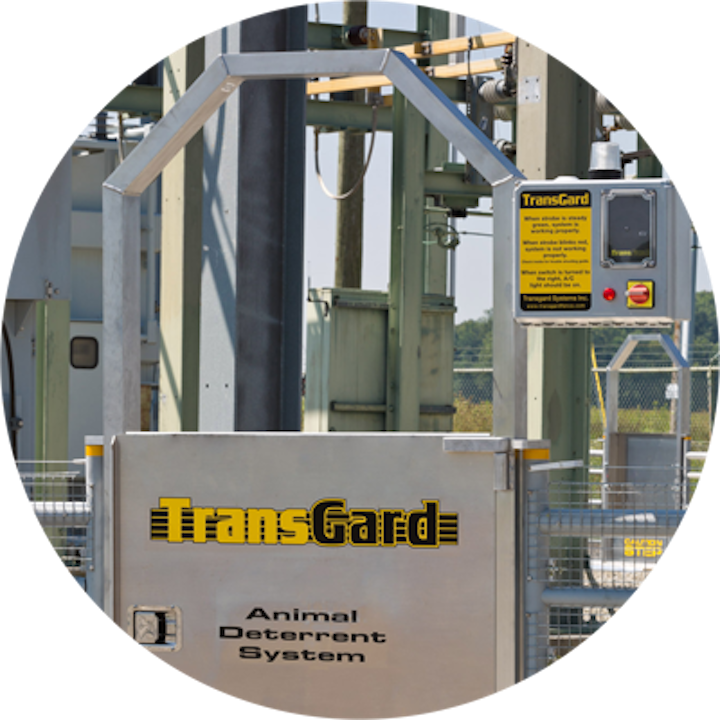 Substation fencing: Every year, animals cause hundreds of substation power outages that leave thousands without power—and cost millions in repairs. TransGard manufactures and installs the only substation fencing that delivers a humane—but effective—electric shock that deters climbing animals, an approach the IEEE calls the most effective barrier against animal incursion.
The TransGard system was designed exclusively for substations: it's modular, durable, and installs in half a day without any interruption to power. To date, TransGard has installed fencing at more than 2,500 North American substations—substations operated by dozens of major utilities, electric cooperatives, municipalities and other power generators.
At a Glance: A unique solution to substation outages
TransGard's specially engineered substation fencing system offers significant advantages to substation operators:
Easy installation
A crew of three can complete a 300-foot TransGard enclosure in just four hours with basic tools—no special training, no heavy equipment, and no power interruption required during installation.
Freestanding protection
TransGard fencing installs on the ground, requiring no postholes, foundation or concrete. TransGard requires far less material, expense and time than a perimeter fence.
Modular design
Construction using a series of panels enables a modular design–any section can be used as hinged gateway, providing quick maintenance access. Substations can easily reuse panels, reconfigure a fence, or add new panels to expand a system.

Engineered entryway
The system offers substation access through a non-electrified entry system, designed with a smooth finish and tight clearances to prevent animal intruders.
Prevents incursion from a wide range of species
Squirrels, raccoons, opossums, cats, iguanas, frogs, snakes and other climbing animals–none can breach the TransGard fence.
Durable materials
TransGard's PVC and steel construction requires minimal maintenance and offers the advantage of a 20-year track record of protection in snow, ice, high winds and other weather conditions.
Galvanized steel bases
Specially designed circular stand bases create a strong, level fencing system.
Snake protection
TransGard's optional snake prevention panels deter snakes as small as 1/4″ in diameter.
At a Glance: Ease of installation
As we've noted above, one of the biggest assets of a TransGard fence is how quickly it can be installed. A team of just 2-3 people can place a fence around a substation in less than a day, without the need for specialized equipment, and without having to power down the substation.
For more information and video about TransGard or other products, click here to go to Utility Products' website.