Safety products: Pre-cut spiral wrap products for combined assembly replacement
Utility supplies: Phillips Industries releases spiral wrap products for combined assembly replacement and do-it-yourself installations.

Nov 30th, 2017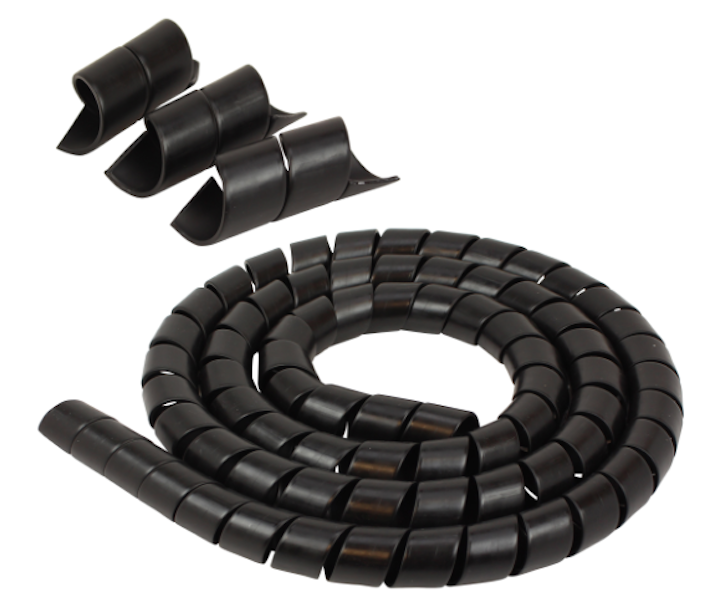 Safety products: Phillips Industries has recently released spiral wrap products that can be used for replacing old spiral wrap or making new combination air and electrical assemblies. The Phillips 3-IN-1 and 4-IN-1 assemblies, which combine straight air and electrical cables, have become extremely popular with fleets because they keep cables organized and shielded from damage. Phillips Industries is now offering pre-cut spiral wrap lengths for these combination assemblies that need replacement wrapping, or for creating new combination assemblies.

For one-time, do-it-yourself installations, Phillips is introducing their most popular sized spiral wrap with a 1 3/8" I.D. (inner diameter) in pre-cut lengths of eight and ten feet. Additionally, new mini pre-cut spiral wraps are available for quick and easy do-it-yourself installations. These "minis" were designed to avoid time-consuming removal and replacement of traditional spiral wrap when repairing or replacing electrical or air cables. Rather than wrapping cables together with a full length spiral wrap, the "minis" are strategically placed along the assembly to hold cables together. They are also a great alternative to cable ties, which have the potential to damage rubber air lines as they contract and expand during braking. And because they're small, a few can easily be stored on board for quick replacement.

Phillips Industries spiral wrap products can be used to combine, organize and protect applications such as wiring, hoses, tubes, and cable assemblies from abrasion, tangling, chaffing, wire pull-out and deterioration. All Phillips spiral wrap products are UV and abrasion resistant, and unaffected by most solvents. The new spiral wrap products are available from authorized Phillips distributors.
About Phillips Industries
Based in Santa Fe Springs, CA, USA Phillips Industries is a leading innovator and manufacturer of advanced electrical and air brake system components, as well as electronic solutions for communicating vehicle data to fleets and their drivers for the commercial truck and trailer industry. Phillips' products are standard on nearly 100% of Class 8 trucks, more than 50% of all trailers manufactured in North America, and can be purchased at virtually all premium distributors. Phillips has manufacturing and distribution facilities throughout the US and Canada, as well as Mexico, China, and Europe. Phillips maintains active membership in key industry associations including TMC, SAE, Heavy Duty Manufacturing Association and various state trucking associations. Their manufacturing facilities have earned the top-quality accreditations including ISO/TS 16949 and ISO 14001 as well as multiple prestigious customer awards from Daimler, NAPA, and many others.
For more information about Phillips Industries or other products, click here to go to Utility Products' website. Or visit our Industry News and Equipment Showcase e-newsletters.