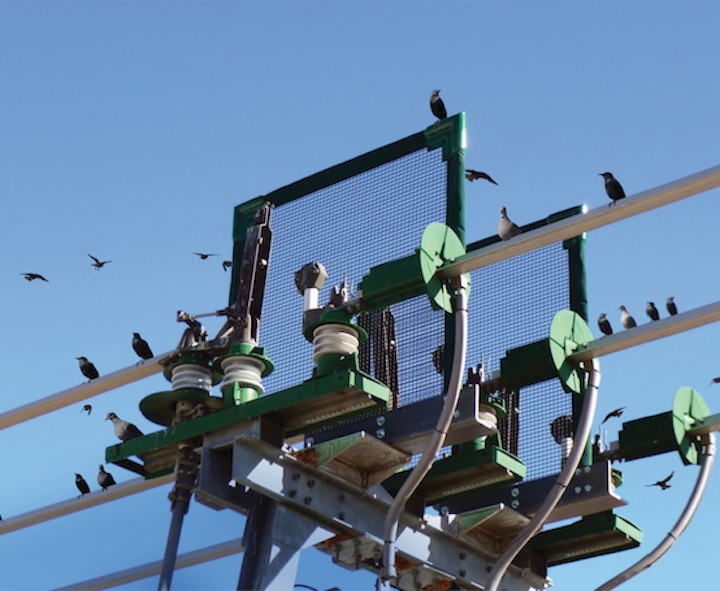 Cantega Technologies Inc., a company that improves power systems reliability by mitigating wildlife caused outages, will be previewing a new services and technology platform at DistribuTECH. Cantega Reliability Technical Services (RTS) will be launching the Cantega Reliability Platform, a web-based system that manages key data for Cantega customers such as:
• Relevant substation information;
• Substation wildlife outage reporting;
• Solution project status data including timeline(s);
• Document management for Site Protection Plans, SLD's/one-line diagrams, elevation drawings and other project details;
• A knowledge database with a sample engineering standard, industry guides and resources, mitigation planning tools;
• Recorded protection of key station assets, mitigation deployment status and statistics including locations and itemized coverage;
• Training programs for both classroom and online instruction on work methods, the Site Protection Plan, installation instructions and product application guidelines;
• A collaboration center for customers to work closely with Cantega teams on individual projects and comprehensive mitigation program planning;
• Incident management including wildlife contact assessment, incident investigation, root cause analysis and corrective action;
• Audit services reporting where current coverage is reconciled against risk coverage and engineering standards; and
• Data measurement for strategic planning such as risk management, audit evaluations, project costing and project prioritization.
With this innovation, Cantega will allow our customers to access data that will improve their decision making on deploying wildlife mitigation products and services. Findings from FTI's white paper, "The Case for Eliminating Animal-Caused Outages in Electric Substations and on Powerlines," published last year, revealed the industry need for improved reporting as it pertains to wildlife outage reporting and mitigation planning (may be downloaded at http://go.cantega.com/FTIWhitePaper). The growing reliance on energy and the implications of its interruption in residential homes, commercial and industrial facilities, and government agencies places an increasing burden on utilities to provide a more reliable power supply than ever experienced in the history of the electric system. Technology exists today that could drive this outage risk toward zero, including the application of protective guards and cover-up solutions.
To further the goal of driving outage risk to zero, Cantega has been working closely with key customers to assess information requirements that would be valuable to source through the technology portal. Customers want to know what cover-up is in place on their power system infrastructure, whether it protects key assets, if it is deployed on the stations and equipment most at risk, what is the cost and long-term reliability impact, and what is the strategic plan and cost of building out a Wildlife Mitigation Program. It is this type of information that is the basis for decision making and developing Avian Protection Plans or Wildlife Mitigation Plans. RTS is also a collaboration environment for customers to work together with Cantega on their Greenjacket precise-fit engineered solution scoping program. Greenjacket is a precise-fit class of cover-up to protect substation equipment from wildlife contacts and resulting power outages. Greenjacket teams work closely with customers to design, scope and deploy their precise-fit engineered solutions for wildlife mitigation.
Greenjacket is a solution delivered to customers that includes linemen services imaging of substations, technology designs to ensure Greenjacket cover-up fits within 1/8th to 1/16th of an inch equipment accuracy to deliver comprehensive coverage, and the resulting made-to-order cover-up that protects the equipment. Greenjacket linemen are well known and respected because they understand both the equipment, the risk points and the wildlife issues. Cantega linemen image equipment during Greenjacket site assessments using a patented method of data collection and also support installation crews with the application of the Greenjacket precise-fit engineered solution. Installations can be done cold or hot. Cantega linemen have invented patent pending tools for the hot installation of Greenjacket cover-up, and several customers have opted for this method of application where it isn't possible to de-energize equipment. At times, Cantega may work with Quanta Services on hot installations. Whether it is a hot or cold application, Cantega has developed safe work methods for the application of Greenjacket, designed by their VP of field services—a lineman with 30 years of field, work method and training experience. Collectively, Cantega linemen have 150 years of field experience.
In addition to deploying the Cantega RTS Platform, Cantega will be expanding its lineman team to provide audit and post installation inspections, since these types of services are currently being requested by customers and will enhance reliability performance. Other services such as incident management are provided by trusted lineman who can assess the phase to phase or phase to ground contact points relating to the local species and determine solutions that best mitigate outages in a customer specific environment. These offerings have been added to the Cantega services portfolio.
Adding to a Proven Track Record of Success
AltaLink, a Berkshire Hathaway Energy Company, has been a longstanding partner of Cantega in the development and deployment of the Greenjacket solution. Greenjacket plays an important role in AltaLink's focus on delivering reliability, exceptional service to their customers, and protecting the environment.
AltaLink has tracked the performance of Greenjacket at its substations since 2005, and the improved reliability performance is significant. According to Mike Bartel, VP Asset Management at AltaLink, "Greenjacket has improved our load interruption duration performance by 95 percent at AltaLink substations where we had been experiencing frequent wildlife contacts/interruptions. It is rare to find such an investment in reliability that essentially guarantees effectiveness. This type of improvement not only improves our reliability performance, it also improves our customer satisfaction and reduces our impact on the environment."
On average, the outage rate due to wildlife contact has reduced from one outage every year to one outage every 10 years—and reductions in load interruption duration has gone from 248 minutes to 12 minutes, an improvement of 95 percent.
Cantega is focused on improving power system reliability. Their portfolio offerings include Greenjacket, Reliaguard and now Cantega RTS. Cantega currently has 18 patents awarded and 15 patents filed and pending relating to product design, data collection, tool design, data processing and manufacturing processes.
For more information about Cantega or other products, click here to go to Utility Products' website.