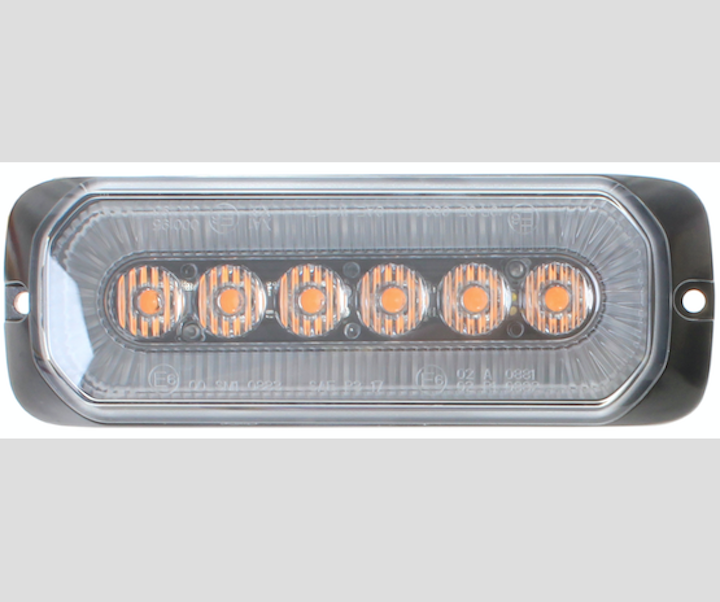 Safety lighting: Superior Signals, Inc. (SSI) announces the addition of the LED Halo Module to their constantly expanding product line. This LED module offers two unique functions to make your equipment more visible to commuters and other equipment operators.
The Halo module has 24 LEDs and features 14 flash patterns. Six flashing/warning LEDs are located in the center of the module. The remaining 18 LEDs on the outer ring will turn on and remain on.
With a voltage range of 12-24VDC, this LED module has an output of 9 watts. The LEDs are rated to 100,000 working hours. The Halo Module is reverse polarity protected, weatherproof and vibration resistant, with non-volatile memory recall and multi-module synchronization. This 5.2-inch long module is backed by a five-year warranty and comes with the following certifications: IPX8, SAE J592 (A/R)(DOT), SAE J595 Class I, SAE J2042 (A/R)(DOT), ECE R10, ECE R65, CA Title 13.
For more information on the Halo module, please contact one of our sales representatives at 800-447-3693 or visit our website, www.superiorsignals.com, and search SYLEDH06 for the series to see all of the color options.
Whatever your needs, SSI has the right light for the job. SSI serves OEM and aftermarket customers domestically and internationally by providing quality vehicle safety lighting and traffic control products for demanding on – and off – road markets. We offer an industry knowledgeable sales force and dedicated sales representatives to assist you in your product requirements for a variety of vehicle and equipment components. We have been providing quality products for over 45 years and our focus is your complete customer satisfaction.
For more information about Superior Signals, Inc. (SSI) or other products, click here to go to Utility Products' website.