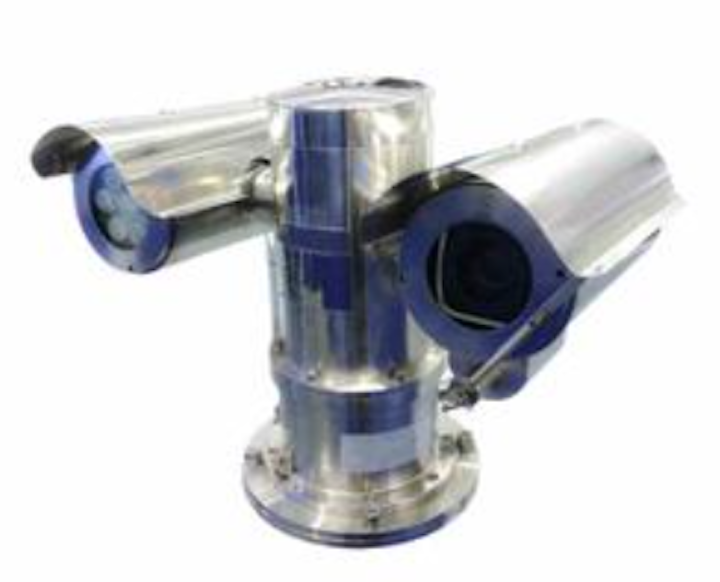 Video surveillance: Larson Electronics' ATEX-EXPCMR-SS-PTZ-OZ-XIR Explosion Proof Camera offers security and remote observation in both indoor and outdoor hazardous environments. This ATEX-rated device provides up to 2MP resolution images and nighttime monitoring via an infrared light. Constructed of 316L stainless steel with a tempered glass lens, the unit supports 360-degree horizontal pan rotation with a vertical tilt range of +90° to -90°.
Camera Features: The ATEX-EXPCMR-SS-PTZ-OZ-XIR security camera provides operators in hazardous and ATEX-rated areas with crisp high-resolution images. This unit offers up to 2MP resolution when in use. With a rotational speed of 10 degrees per second, the explosion proof camera offers full, 360 degrees horizontal rotation and -90 degrees to 90 degrees vertical rotation. Capable of up to 22x zoom, the unit is equipped with a CCD/HD-CMOS sensor, as well as TCP-IP communication, at a rate of 2,400 to 19,200 bps. For nighttime monitoring, the explosion proof unit features an infrared light, with up to 328 feet of range.
The ATEX-EXPCMR-SS-PTZ-OZ-XIR security camera is built to perform under harsh and rugged conditions. The IP68 rated waterproof unit resists the corrosive effects of weather, dust, dirt, and humidity. Featuring an electro-polished 316L stainless steel housing and a tempered glass lens, the camera is capable of operating in hazardous locations with temperatures ranging between -25°C and 60°C. A lens wiper removes the build up of moisture and dust during operation.
Wiring: This unit is designed to operate on 24V AC or 85V AC to 265V AC, stepped down to 12V. One cable gland opening is available for completing electrical and wiring connections.
Mounting: The explosion proof monitoring device offers versatile mounting options, depending on the needs of the facility. Operators may mount this ATEX-rated unit on walls or ceilings using provided pan/tilt mounting brackets.
Applications: Vessel, tank and reactor monitoring, remote observation of external facilities, offshore and land-based rigs, indoor and outdoor security, commercial buildings, service garages, oil refineries and other applicable hazardous locations.
At Larson Electronics, we do more than meet your lighting needs. We also provide replacement, retrofit, and upgrade parts as well as industrial grade power accessories. Our craftsmen can custom build any lighting system and/or accessories to fit the unique demands of your operation. A commitment to honesty, quality, and dependability has made Larson Electronics a leader in the lighting and electronics business since 1973.
For more information about Larson Electronics or other products, click here to go to Utility Products' website.