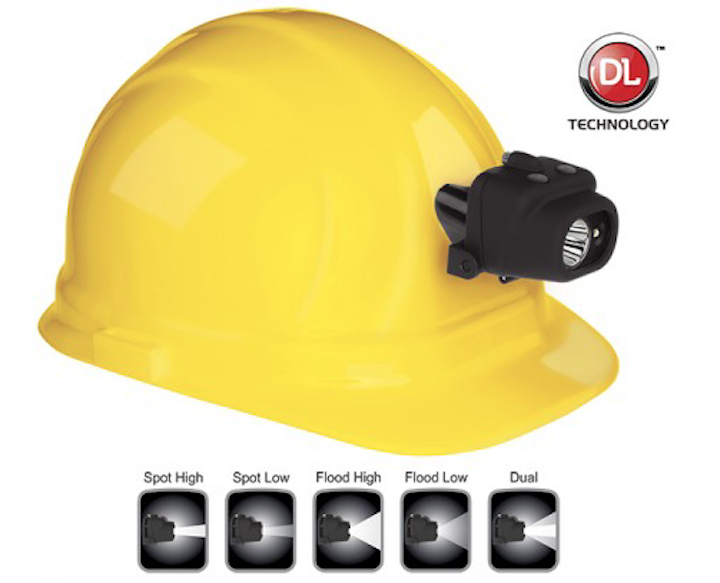 Safety lighting: Nightstick's 3 AAA Dual-Light™ Headlamp w/Hard Hat Clip & Mount features a multi-position tilt head design and includes an integrated stainless clip and adhesive hard hat mounting bracket for hands-free operation. Using Bayco's exclusive Dual-Light design, this NSP-4608BC headlamp combines a tight-beam long-throw spotlight, with a wide-beam close area floodlight.
Rated at 100 and 60 lumens respectively, the high- and low-brightness spotlight beams on this headlamp are designed for distance illumination. This headlamp also has two wide-beam floodlight settings rated at 90 and 50 lumens. The floodlight spreads out in a wide even pattern of light expressly for the purpose of providing illumination of areas that are close by. Additionally, any combination of spotlight & floodlight settings can be selected simultaneously for even greater functionality. The top mounted dual switches provide high/low-brightness spotlight and high/low-brightness floodlight.
Features
• CREE® LED technology – 50,000+ hours LED life
• 5 modes: high/low spotlight, high/low floodlight & Dual-Light™
• Integrated Stainless Steel Clip attaches to hard hat mounting bracket (included)
• Focused spotlight beam for distance illumination
• Unfocused wide-beam floodlight for close-up illumination
• Dual-light (any spotlight & floodlight mode at same time) for maximum versatility
• Engineered polymer housing
• Dual switches located on top of light
• Adjustable ratchet tilt head
• Waterproof
• Impact & chemical resistant
• 3 AAA batteries (included)
For more information about Nightstick or other products, click here to go to Utility Products' website.