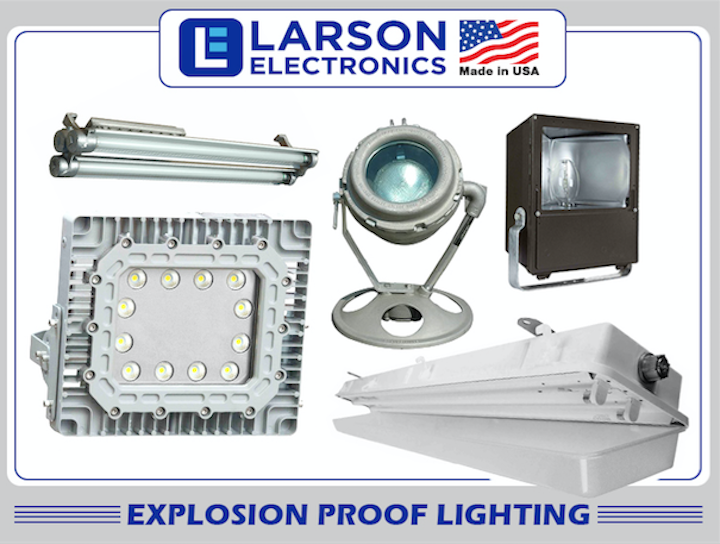 Safety lighting: Larson Electronics offers both pole top mounted and rail mounted explosion proof lights, which are ideal light fixtures for elevated lighting and provide operators with powerful, energy efficient alternatives to traditional hazardous location luminaries. We offer these Class 1 Division 1 & 2, Class 2 Division 1 & 2 compactly-designed explosion proof explosion proof LED fixtures with Cree LED technology, making these lamps an excellent replacement and upgrade option for bulky and high maintenance cost older incandescent, metal halide and high-pressure sodium lights.
These LED fixtures are constructed of durable materials that can withstand harsh outdoor climates, including wind, rain and the ingress of dust and dirt. They also feature special LED technology with a heat dissipating design that helps the fixtures achieve long lifespans and excellent lumen retention. They also include multiple LED drivers which assist in the event of failure – If one driver fails the rest will continue to operate. Additionally, these pole and rail mounted fixtures are light weight and feature low profiles, and require much less hardware to install than traditional fixtures.
Our pole top explosion proof lights are ideal for elevating above work areas, lighting up platforms, tank farms and for exterior lighting. They are universal voltage capable and can be operated with 100-277 VAC, 50/60Hz. We also offer a low voltage versions that operates on AC/DC voltages from 11-25 Volts.
Our rail mounted explosion proof LED light fixtures are great for pipe racks, ships, offshore drilling platforms and for refineries. They also are universal voltage capable, operated with 100-277 VAC, 50/60Hz and offered in a low voltage version.
Any models with slip fit yokes for mounting can be built to customer specs, enabling operators to mount the explosion proof LED light to their specific pole size.
At Larson Electronics, we do more than meet your lighting needs. We also provide replacement, retrofit, and upgrade parts as well as industrial grade power accessories. Our craftsmen can custom build any lighting system and/or accessories to fit the unique demands of your operation.
For more information about Larson Electronics or other products, click here to go to Utility Products' website.