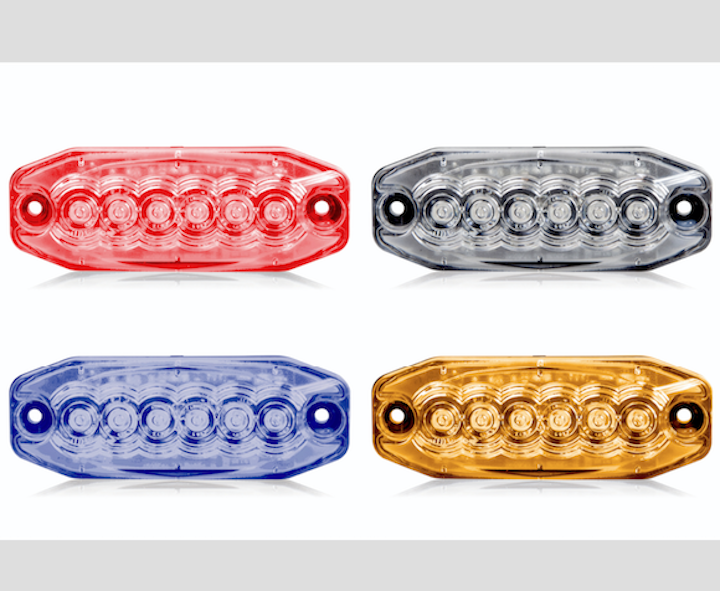 Safety lighting: Maxxima, a provider of LED lighting for commercial vehicles and industrial applications, introduces a new family of ultra-thin Class 2 emergency/warning LED lights.
The M20388 Series is available in amber, red, white, or blue. Each light has six high-performance LEDs to deliver superior brightness and performance in steady-on or flashing modes. The durable polycarbonate housing and clear lens are just 0.5 inches deep—a low-profile design that's ideal for vehicle applications where safety, visibility, durability, and reliability are critical.
Other features:
- Dimensions: 3.3 x 1.2 x 0.5 inches
- 12/24 VDC
- Amp draw: 400ma 12V/240ma 24V
- Connector: 3 blunt-cut 7-inch leads
- Surface or tape mount (hardware included)
- Steady-on mode allows optional flasher module control (M50910)
Maxxima's new emergency/warning LED lights have a five-year warranty. They are available now through the company's network of aftermarket distributors in the United States and Canada.
Maxxima, a division of Panor Corp., designs and manufactures a complete range of LED lighting for commercial vehicles as well as consumer and industrial markets. From stop/tail/turn (STT), emergency, interior cargo, and marker lamps, Maxxima LED products light the way for trucks, buses, trailers, and other vehicles on and off road in the most demanding environments all over the world.
For more information about Maxxima or other products, click here to go to Utility Products' website.