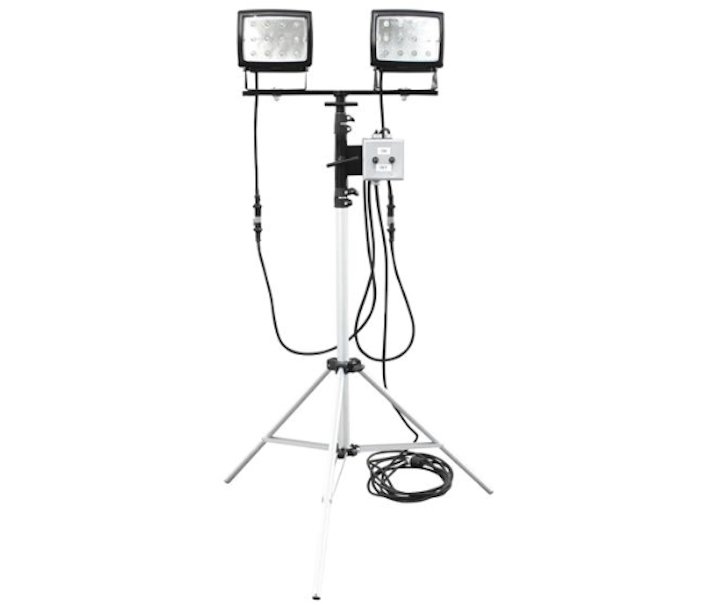 Work lights: Larson Electronics' WALTP-2XWP400 LED light tower extends from 3.5' to 10' and provides high intensity output and telescoping tripod tower versatility for operators looking for an economical yet effective alternative to halogen and metal halide light tripods. Each LED emitter on this extendable tripod tower produces illumination comparable to a 400-watt metal halide without the high heat, fragile construction, or high energy use. Together, these units can cover an area similar to our 400-watt metal halide lights at a fraction of the cost and energy use.
The WALTP-2XWP400 LED light tower from Larson Electronics produces a wide flood beam of light while drawing only 40 watts @.45 amps at 120 VAC per light head, for a combined total of 80 watts @.90 amps on 120VAC current. The light assembly consists of two led light heads, each with twelve 3.3 watt LEDs paired with high purity specular optics, mounted to a single light fixture bracket. Each of these LED light heads produces a light output comparable to that of a 400-watt metal halide lamp. This LED light tower is designed to withstand demanding conditions and is waterproof, vapor proof, and built to resist the damaging effects of an outdoor environment.
The WALTP-2XWP400 lamp fixture consists of two LED light heads mounted atop a telescoping tripod tower. Each Light head contains twelve, 3.3 watt LEDs housed within a waterproof aluminum housing that is powder coated for added durability and resistance to corrosion. These housings incorporate integral cooling fins for efficient heat dissipation and increased LED longevity. The LED lamp assemblies are protected by shatterproof polycarbonate lenses which are secured to the housings with a waterproof seal. 1/2" waterproof connectors provide a secure and sealed power connection point and rounds out these fixture's weather resistant construction.
Each of the LED light heads on the WALTP-2XWP400 produce a light beam that is longer and narrower than a standard Rab Floodzilla 250W Metal Halide (see comparison chart below). The beam will illuminate an area nearly twice the distance as a standard 250W metal halide flood light, but is 30% narrower than the metal halide flood.
*PLEASE NOTE: ANY FREE SHIPPING OFFERS DO NOT APPLY TO LIGHT MASTS, LIGHT TOWERS, OR QUADPODS*
For more information about Larson Electronics or other products, click here to go to Utility Products' website.