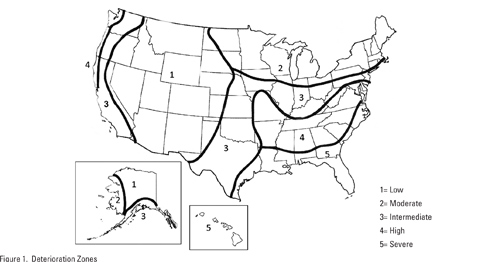 By Nelson Bingel and David Bonk
As a utility asset manager, what would it mean to you to be able to fund a meaningful portion of your annual wood pole inspection and treatment program cost with capital dollars?
Applying remedial treatments to wood poles significantly extends service life, demonstrating a substantial addition or betterment to the pole plant and meeting the requirements for capitalization under Federal Energy Regulatory Commission (FERC) accounting guidelines. Utility companies can realize substantial operating benefits and a positive impact on earnings. Ratepayers may experience lower costs over time as utility companies reduce operations and maintenance (O&M) expenses and secure more consistent annual treatment program funding to maintain optimum inspection and treatment program cycles.
Predicted Service Life and Decay Hazard Zones
Recent estimates put the number of wood poles in service across the US at 150-170 million. Decay, along with insect and mechanical damage, may reduce pole bending strength over time. As defined by National Electric Safety Code (NESC) strength requirements for wood poles, large segments of the pole population are nearing the end of their expected service life.
Predicted service life varies with the severity of five decay hazard zones, which are geographically defined by the American Wood Protection Association (AWPA) as shown in Figure 1.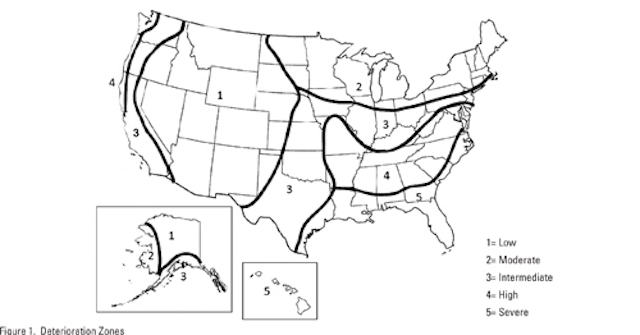 Osmose Utilities Services Inc. previously conducted and published research on Predicted Service Life by Decay Hazard Zone (without any remedial treatment) using data compiled on 751,000 utility poles commercially inspected across the US between 1988 and 1999. Predicted service life is calculated as the point where 50 percent of the sample has a remaining strength that is less than required by the NESC. These poles are typically categorized as rejects during the inspection process.

Predicted service life for the national dataset as a whole is 45 years, and the separate values for each decay zone are as follows:
This analysis went on to show the positive results a typical pole owner could expect from an effective inspection and treatment program. Fast forward to 2014 and the issue of effectively managing an aging plant infrastructure and dealing with a potentially large bubble of older poles installed in the 60's and 70's remains for many utilities. Consistent funding remains a challenge given the current practice to use increasingly tight O&M budgets that can literally change with the weather. The implication is that inaccurate or ineffective capitalization approaches can sometimes drive sub-optimal asset management decisions by utility operating managers.
Inspection vs. Treatment Activities
Typically, pole inspection and pole treatment have been lumped together. From an operational perspective, this makes sense because both tasks are completed during the same visit to the pole. In reality, they are two distinct activities from an accounting perspective and can legitimately be separated. The use of a treatment product on a wood pole is not a maintenance expense targeted at identifying or fixing a malfunctioning asset, or, as defined by FERC, is not related to "inspecting, testing and reporting on condition of plant specifically to determine the need for repairs or replacements." Rather, it is more logically a capital expense with well-documented life extension benefits.
Pole Treatment and Expected Life Extension Benefits
Pole data has historically been compiled and reported to many utility companies in the form of a Survivor Curve showing relative reject rates with and without pole inspection and remedial treatment. For this most recent analysis conducted by Oliver Wyman-a leading global management consulting firm- data from 600,000 poles representing all five decay zones that contained poles with both previous remedial treatment as well as no remedial treatment was analyzed. Actuarial survival analysis modeling was used to project expected pole failure ages. As shown in Figure 2, at the 46-50 year age band there are twice the number of remediated vs. non-remediated poles remaining in service. Meaningful separation begins to show in the 21-25 year age range.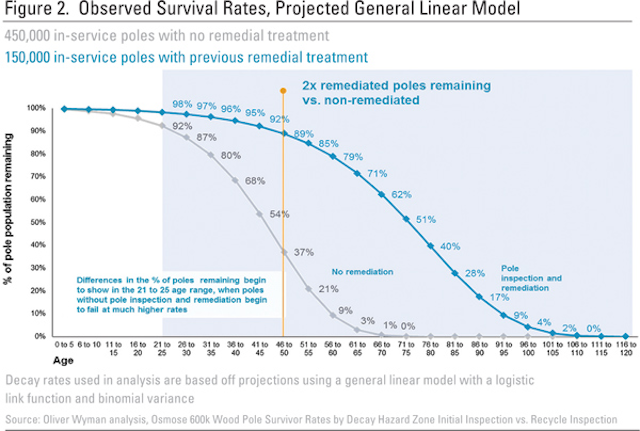 The data was next used to compare expected average life without remedial treatment to the extended average life with inspection and remediation. Figure 3 is based on the conservative assumption that no pole will last longer than 71 years. This capped life model used 71 as a projected ending age to generate a true average vs. predicted median age of failure. The results demonstrate a measured 33 percent increase in lifespan or 16-year pole life extension for remediated poles.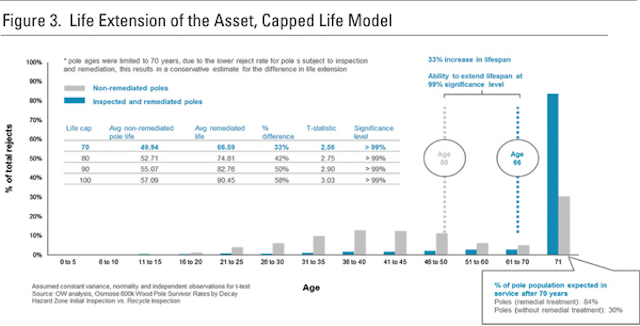 Next, the 71-year life cap was removed to get an even more realistic model of what is happening with the wood pole plant. Figure 4 shows the average life without remedial treatment is 45 years, but with remedial treatment is 73 years-a 28-year or 60 percent increase. The actuarial analysis model allows us to project this out and is beneficial given the lack of performance data on 80 and 90 year old poles. Individual utility calculations on useful life extension relative to their specific pole plants may be validated and adjusted based on local environmental factors (geographic location, decay zone), asset demographics (wood species, original treatment), and past remedial treatment program history.
Other Studies on Life Extension
A 2012 Quanta Technology study on wood pole service life calculated the average expected lifetime of a wooden utility pole with an inspection and treatment program is 96 years. An earlier 2008 report from the North American Wood Pole Council authored by J.J. Morrell, based on a review of national survey data reported by utility companies with inspection and treatment programs, noted that using a 0.5 percent replacement rate, "the average pole service life would easily reach 80 years in many areas of the country."
FERC Treatment and Accounting Guidelines
FERC Electric Plant Instructions under C.F.R., Title 18, Part 101, Instruction 10.C. (1) - Additions and Retirements to Electric Plant, states that costs of minor items of property added to the plant may be capitalized if a substantial addition or betterment results. Along with improving the quality or quantity of an asset's output, a substantial addition may be accomplished by extending the life of the asset beyond its expected life. This is the main premise behind the assertion that pole treatment qualifies as a minor item of property and capital funding is not only appropriate but the more accurate way to classify these costs.
An additional test for betterment is whether the expenditure reduces the operating cost of the asset. A secondary case can be made that investments in remedial treatment result in reduced operating costs for the T&D system overall by reducing the number of required pole change-outs over time.
When referencing the FERC Uniform System of Accounts for guidance, companies often refer to Section 593, Maintenance of Overhead Lines, Item j, which denotes "shaving, cutting rot, or treating poles or crossarms in use or salvaged for reuse" as the basis for classifying pole treatment as a maintenance item. It should be noted these original FERC standards were set up in the early 1960's before long-term life cycle data was available to definitively prove remedial treatments extended pole life.
There are two recent rulings from FERC on questions of capitalization that are also relevant to the discussion on pole treatments. The first is their approval of Novinium Inc.'s 2008 request that its public utility clients account for the cost of installing their brand of injection rehabilitation products for underground residential distribution (URD) cable as an addition to electric plant, i.e. capital expenditure. The specific wording of the approval reads: "A company may capitalize the cost of installing injection rehabilitation products provided that the product is used by the company to extend the useful life of its segments of URD cables beyond their original estimated useful lives."
The second and more recent ruling involves the approval of an accounting petition filed by Waverly Light and Power allowing utilities to capitalize all costs incurred to retro-fill a (still serviceable) substation transformer with a new bio-based dielectric coolant from Cooper Power Systems. In its final 2011 order, FERC affirmed the fluid qualified "as a minor item of property that did not previously exist provided that a substantial addition results from its use."
It should be noted that both of these rulings involve a one-time product application to realize the expected life extension benefits vs. the multiple treatment applications required for long-term pole life extension. There are several key points to make on this topic:
1. Poles, like other long-lived assets, require expenditures to repair, maintain or improve them over their lifetimes.
2. The application of even one remedial treatment has documented life extension benefits even if no subsequent treatments are applied.
3. The application of a remedial preservative treatment to a pole once every 8-15 years, if it clearly qualifies as a betterment, should not be considered a "recurring or routine maintenance expense."
In the absence of a similar definitive ruling from FERC regarding pole treatment or any "bright-line rule or test" more clearly defining a standard for decision-making, there is a need for a more qualitative "balancing test" incorporating the consideration of all the currently-known facts and circumstances.
Specifically with regard to the key principle of betterment, recently updated Internal Revenue Service (IRS) regulations that include capitalization rules for tangible personal property (TD 9636, 9/19/13) no longer phrase the betterment test in terms of expenditures that "result" in a betterment. Instead, the rule now states that capitalization is required for amounts that are "reasonably expected" to materially increase one of the qualifying factors previously referenced-improving the quality or quantity of the asset's output, increasing the asset's useful life over that which was originally estimated, or reducing the costs associated with operating the asset.
The prevailing argument for applying this same overall logic and approach for wood poles is the magnitude of the hard statistical evidence now available supporting treatment for life extension and understanding this is not done to help achieve expected service life, but to extend the useful life and results in a substantial addition or betterment. In this analysis, the concept of original estimated service life is taken further by calculating actual average service life to lend further weight to the evidence. Pole treatment provides a long-term benefit and should more accurately be considered a capital expenditure, especially when incorporating a standard of reasonableness as part of the decision-making process.
Another area for review and discussion involves the relatively low cost of the treatment expense and whether this is large enough to be considered a material addition to the asset account. While the expense for an individual pole might not be considered material, the total annual treatment expense for 10 percent of the pole plant as part of a cyclical inspection program would be large enough to qualify, especially in the context of distribution poles being considered a mass asset account where additions are not tracked at the individual pole level.
It should be noted this also has implications for the depreciation calculation used by utilities and how this life extension impact may justify extending the book depreciable life and reduce the annual depreciation expense. This evaluation should be undertaken at the discretion of the individual utility.
Summary
Long-term system performance data now available supports the capitalization of pole treatment costs as a minor unit of property because of the resulting substantial addition or betterment it provides to the overall wood pole plant. Utilities can accrue financial benefits to both ratepayers and shareholders by lowering O&M expenses over time and recovering pole treatment costs through longer-term capital recovery mechanisms. Short-term budget challenges often negatively impact potential long-term program benefits and can result in sub-optimal decisions by utility operating managers. Funding part of the cost for an effective pole inspection and treatment program with capital may enable utilities to stay on their targeted inspection cycle or move closer to the cyclical inspection program recommended for their decay zone and pole plant characteristics. The goal is to optimize program costs vs. benefits and reduce the downstream impact of having to replace large numbers of poles that no longer meet NESC requirements to remain in service.
---
About the authors: Nelson Bingel is the vice president of Product Strategy, and David Bonk is the vice president of Industry Affairs at Osmose Utilities Services Inc. Bingel and Bonk have more than 55 years of combined experience with T&D engineering and operations. For more information on wood pole life extension and capitalization, please contact Bonk at dbonk@osmose.com.