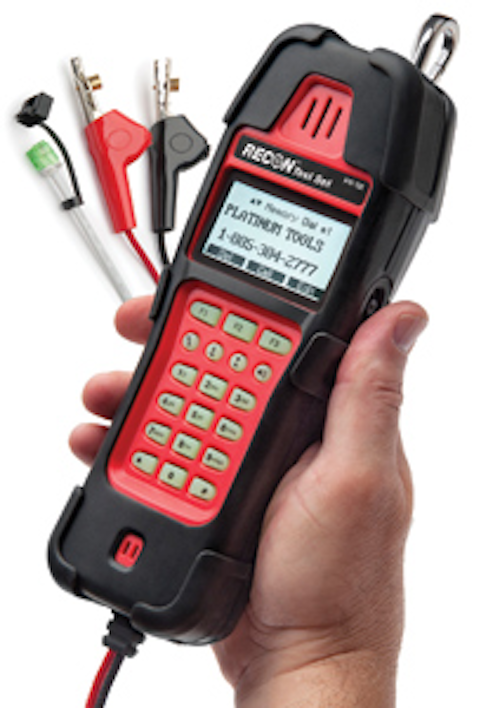 By George Jang
Troubleshooting and verifying with test sets hasn't changed for decades. Most of your primary troubleshooting involves testing for live or dark phone lines, if connections may be faulty/noisy, and what the number is on a particular phone line. Dial, pulse/tone and redial are basic troubleshooting that most test sets can still do, but even basics evolve over time and today's everyday test set offers more features to meet the expanded needs of field technicians, reducing the time needed to do the job and saving money by reducing the number of truck rolls.
Visual Presentation is Key
Any display makes a job easier. It takes away guesswork by displaying results clearly and in more detail. Viewable frequency and voltage measurements can tell you if you're on a T1 or a DSL line. You can view and select numbers from a list of stored numbers, select the type of test tones to use for your testing, and you can view and monitor any real-time changes in the line voltage or current.
If proper lighting is not available in a telecom closet, which can be the norm in many situations, a highly visual display will immediately play an important role in such a situation. Fortunately, the more innovative manufacturers have recognized these situations and have introduced models with large backlit LCD displays and a glow-in-the-dark keypad. It may seem like an obvious necessity, but it has taken some time to make such an improvement a key aid in designing modern day testing equipment.
Multi-function Necessities
Look for test sets that not only feature all the critical basic functions you need, but also for one that can do it all-ensuring you have all you need at your finger-tips. This is especially true for separate models because of the specific test clips. Combination clips with angled bed-of-nails, piercing points and alligator jaws are common, but there are also models that include a no-fault RJ12 in the cable set, eliminating the need to carry a modular banjo adapter.
Comfortable and Rugged
Test sets should be designed to be used comfortably and efficiently. Old style test sets with the keypads in the receiver head have been used for decades, but most require a two-handed operation. The latest test sets are ergonomically designed so they are comfortable to hold, and the keypad is positioned by your thumb for more natural one-handed operation. To prevent fatigue, its weight should be evenly distributed so it's not top-heavy.
Test sets should pass or exceed the industry standard 20-foot drop tests, and look for products that meet at least IP54 standards to ensure proper weatherproofing. Test sets should meet the needs of today's field technician working in unforeseeable conditions. Unfortunately, some test sets are still only rated for a 10-foot drop, and this rating will only be applicable in a small percentage of operations. The possibility of damaging your testing equipment rises significantly when not rated to a higher standard.
Data Detection and Prevention
In addition to standard dialing, pulse/toning and redialing, technicians need to be able to detect if digital data is present on the line. Test sets can corrupt data if attached to a line that data is being transmitted over, causing performance to drastically drop across the entire network.
To prevent havoc to your client's operation, use a test set that has built-in data detection and protection features, such as Data Defender. When data is detected, data protection automatically provides visual and audible alerts, allowing you to select an off-hook mode on the test set and lock it out to prevent it from introducing any pervasive signals into the line. You can then manually override the safe mode and allow the test to proceed.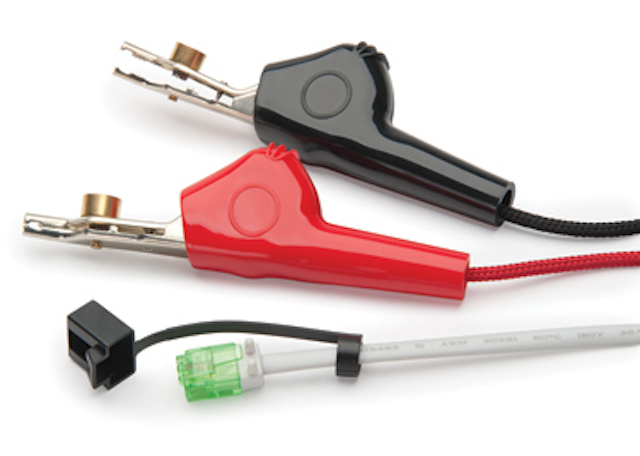 Processing Power Equals Faster and More Complete Results
Manufacturers are using more powerful processors in their test sets. This allows the test set to process more information faster using more complex algorithms to provide more accurate results. The embedded processor and memory in these processors also allow manufacturers to customize features for specific applications. If you have a global workforce and a large enough volume, for example, manufacturers can customize the tester for specific countries, allowing your global team to use the same tester and the same procedures, basically anywhere.
Basic Features are Still Necessary
Finally, there are common sense features you should have on your list of must have features.
• Adjustable volume-Depending on the environment, you might need the volume to be higher to hear a tone/ring if you're outdoors or in a server room. Conversely, you may need the volume to be softer if you're working in an office environment where disrupting everyday business practices is not an option.
• Noise cancelling microphone-If you or your technician ever needs to call in from a noisy server room, this feature allows the person on the other end to hear you clearly.
• Auto-off feature-Keeps your battery from unnecessarily being depleted.
One example of a test set with all the features you need for an everyday workhorse is the RECON Test Set from Platinum Tools. The RECON features an extra-large backlit display, a glow-in-the-dark keypad, and comes with a cord set consisting of combination alligator clips with angled bed-of-nails, piercing point and a no-fault RJ12 6P6C plug. It is ergonomically designed to be held comfortably in a natural position and allows for one-handed operation. It also features Data Defender, which detects if data is present on the line being tested and locks out the test set until you and your client are ready for you to test the line for a data-safe operation.
Don't Settle for the Old Standards
The old "standard" models for everyday test sets are designated "standards" because technicians find them reliable and the features were appropriate for their past needs. That doesn't mean that you have to settle for what you're use to if your needs have changed. Products improve and new standards are set because your needs for your everyday workhorse test set change-and manufacturers are aware of that.
If you don't know about them, your test set reseller is probably anxious to provide you with information about what's available. Just ask.
---
About the author: George Jang has more than 20 years of experience as a product manager and consultant for varying technology industries. His most recent work includes projects with regulatory energy efficient consumer electronics programs and international secure credential solutions.