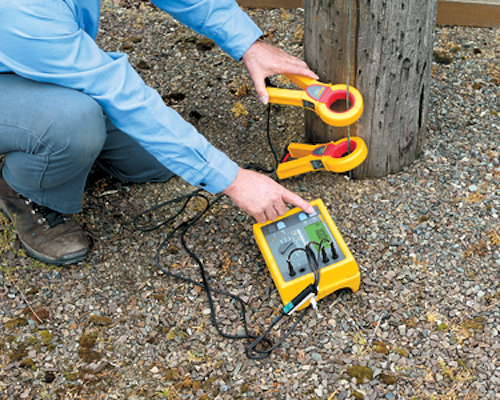 1623-2 and 1625-2 Earth Ground Testers
The Fluke 1623-2 and 1625-2 Earth Ground Testers have advanced features and accessories that speed verification of a reliable connection to earth for grounded electrical systems, helping solve power quality problems and lowering the risk of shock to users. The new accessory reels can save up to 50 percent of setup and teardown time compared to existing wire reels.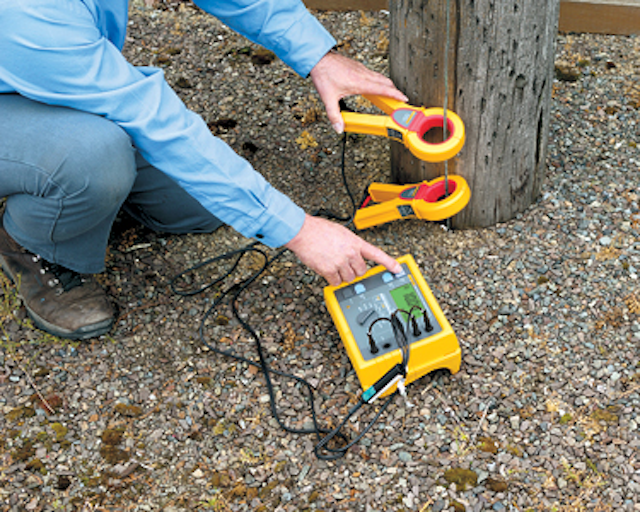 The advanced testers perform all four types of earth ground measurements: 3- and 4-pole fall-of-potential, 4-pole soil resistivity, selective testing and stakeless testing. They feature USB connectivity for easy storage of up to 1,500 records with time stamp and fast downloading of measurements, eliminating the need for manual data transfer. Their large displays make it easy to read measurements in any environment.
The 1623-2 and 1625-2 may be purchased as standalone testers or in kits that include test leads, clamps, batteries, EG stakes, cable reels and carrying case.
Fluke
CIRCLE 124 ON READER SERVICE CARD
---
HVA-2000 High Voltage Digital Ammeter
Take ampere measurements on conductors up to 500 kV quickly and easily with HD Electric's HVA High Voltage Digital Ammeter. The large, bright, four-digit LED display allows you to read amps from the longest of telescoping hotsticks.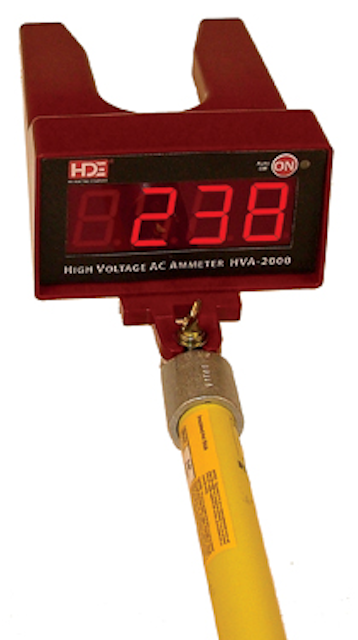 The HVA is lightweight and easy to use on the end of a long hotstick. The HVA features 1 percent accuracy and will store the last four readings, allowing you to read real-time amps directly during live line operations or by using the stored readings function.
Features and benefits:
• Quickly take current readings on conductors up to 500 kV (phase-to-phase);
• Measures ac current, 25-500 Hz;
• Read the measurement in real time from the large digit display;
• Stores the last four current readings;
• Display is easy to read in bright or dark conditions;
• Auto shutoff with low battery function;
• Small and lightweight, easy to manage on an extension hotstick;
• Dual hotstick connections-universal spline and clampstick;
• Use on conductors up to 2.75 in.;
• Accuracy 1 percent of reading; and
• Made in the USA.
HD Electric Co.
CIRCLE 125 ON READER SERVICE CARD
---
New Power Quality Analyzer Model 8333
The PowerPad III Model 8333 from AEMC is a three-phase power quality analyzer that is easy to use, compact and shock resistant. It enables technicians and engineers to measure and carry out diagnostics and power quality work on one-, two- or three-phase networks. Current and voltage input terminals are provided. It is IEC 61000-4-30 Class B and safety rated to 600V CAT IV.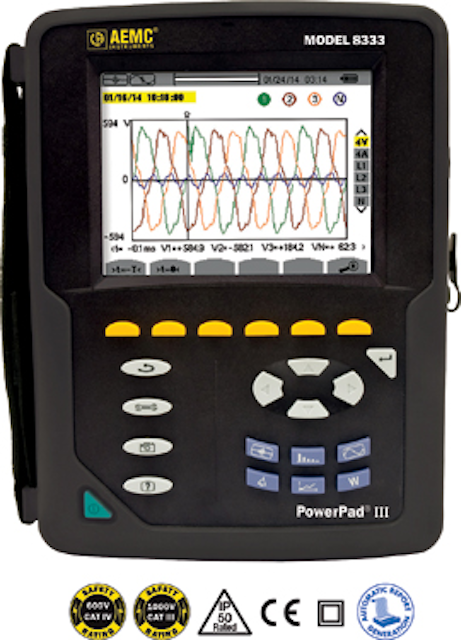 The Model 8333 has memory available for storing trend data. Additional internal memory is used to let you store alarms, transients and snapshot data. The user can store up to 12 screen snapshots, up to 51 captured transients that contain four cycles for each active input, and 4,000 alarm events from up to 10 different parameters. Trend data can also be recorded for days, weeks or even months.
Applications include:
• Verification of power distribution circuits,
• In-plant troubleshooting of power distribution panels and individual machinery,
• Monitor pad mount transformers and phase unbalances,
• Determine harmonic problems originating from source or load,
• Determine transformer K-Factor, and
• Energy metering (kVAh, VARh, kWh).
AEMC Instruments
CIRCLE 126 ON READER SERVICE CARD
---
V-Watch Personal Voltage Detector
It's summer, active hurricane and tornado season in the USA. HD Electric is preparing for storm season, building inventory levels to fulfill customer needs. In particular, V-Watch Personal Voltage Detectors are available to keep workers safe, especially during storm restoration work.
V-Watch Personal Voltage Detectors are worn on the outside of clothing at mid-torso and provide an extra level of safety by detecting and alerting workers to the presence of electrical fields or energized electrical equipment. In emergencies, crews can move in safely to quickly restore power to customers.
Features include:
• Alerts user to proximity of high voltage;
• Audible and visual alarms increase in frequency the closer the user gets to energized equipment;
• Typical warning distance is about 7 ft. from a 4 kV ac conductor;
• Provides another level of safety for storm restoration workers and first responders;
• Tough nylon carrying case lanyard holds the V-Watch-it stores the V-Watch when not in use and can be worn around the neck during use; and
• Made in the USA.
HD Electric Co.
CIRCLE 127 ON READER SERVICE CARD
---
Ti400 Infrared Camera
The Fluke Ti400 Infrared Camera features advanced connectivity and accuracy to maximize technicians' productivity in the field. It is equipped with LaserSharp Auto Focus, which uses a laser to calculate the distance to target for precisely focused images every time. Place the red laser dot on the equipment you are inspecting, then pull and release the trigger for a perfect in-focus image.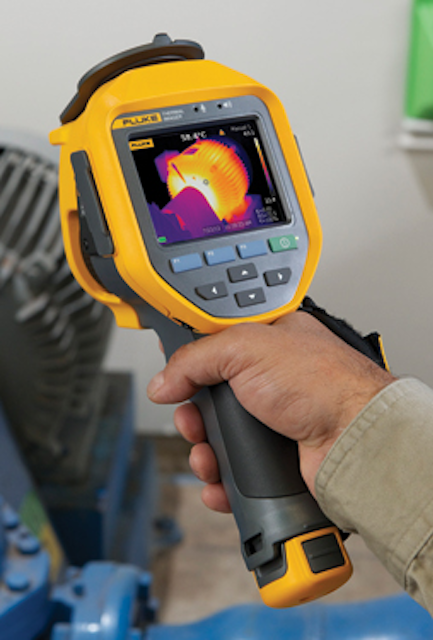 The Ti400 is part of the Fluke Connect system, which allows maintenance technicians to wirelessly transmit measurement data from their test tools to their smart phones for secure storage on the cloud and universal team access from the field. More than 20 Fluke tools connect wirelessly with the app, a free download from the Apple App Store and Google Play Store. In addition, Fluke infrared cameras feature patented IR-Fusion technology.
Fluke
CIRCLE 128 ON READER SERVICE CARD
---
New Ground Resistance Tester Models 6416 and 6417
AEMC's Ground Resistance Tester Models 6416 and 6417 measure ground rod and grid resistance and impedance without the use of auxiliary rods. Clamp-on ground resistance testers can be used in multi-grounded systems without disconnecting or de-energizing the ground system under test it.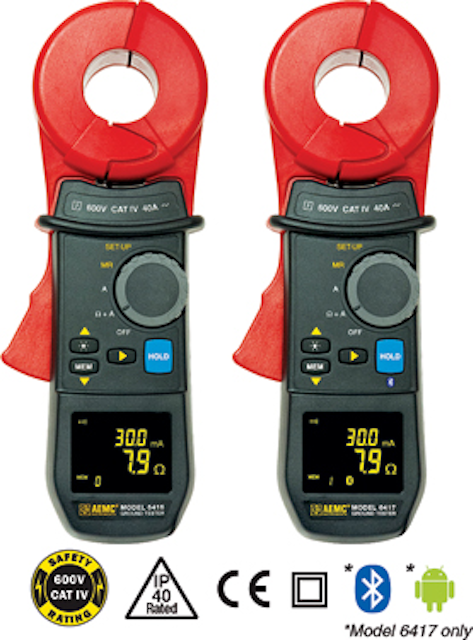 The Models 6416 and 6417 simply clamp around the grounding electrode or conductor and measures the resistance to ground. By performing measurements on intact ground systems, the user also verifies the quality of the grounding connections and bonds. Resistance and continuity of grounding loops around pads and buildings may also be measured.
Three new features are: test frequency selection provides more accurate results in inductive environments; touch voltage indication indicates the voltage on the display along with a warning buzzer when the voltage derived from current and resistance measurements detect a potentially dangerous touch condition; and loop resistance indication alerts the user that the measurement may not be ground resistance.
AEMC Instruments
CIRCLE 129 ON READER SERVICE CARD