By Dave Bryant
In August 2003, the Eastern United States and parts of Canada experienced a widespread blackout that was caused by a number of factors. These included incorrect telemetry data, a "race condition" computer bug in an Energy Management System, and three 345 kV transmission line trips because of excessive conductor sag. This led to cascading sag-trip outages on the 138 kV distribution system. These events and a lack of effective communication between utilities ultimately shut down 508 generation units at 265 power plants. The economic impact was estimated to exceed $8 billion. In this case, leveraging technology by using modern high-capacity, low-sag conductors such as Aluminum Conductor Composite Core (ACCC) might have prevented the cascading outages, in spite of inevitable computer and telemetry glitches.
In 2005, President Bush signed into law the Energy Policy Act. This Act established a directive that, among other things, provided incentives for utilities that used advanced technology including high-capacity, low-sag conductors to improve the efficiency, capacity and reliability of the grid. The incentives were designed, in part, to offset the perceived risk in leveraging new technology. Since that time, the incentives disappeared, but, considering the attributes of new conductors have been widely recognized, the perceived risks have substantially diminished. Some 15,000 miles of ACCC conductor, in fact, have already been deployed to more than 280 project sites in 28 countries.
In the wake of super storms Katrina and Sandy, grid objectives were expanded to include grid hardening and grid resiliency, which are essentially new phrases that describe the reliability objective established by the Energy Policy Act of 2005.
More recently, the North American Electrical Reliability Corporation (NERC), published its 2013 Long-Term Reliability Assessment, which reported that nearly 60 percent of all new transmission projects were being undertaken primarily to improve grid reliability, with the balance being the integration of renewable generation, the reduction of grid congestion and other objectives.
While the general trend to invest in transmission continues to grow and new technologies are being leveraged, there are still a number of unresolved answers to the question about who will pay for it. Fortunately, there are a number of entities that are working to sort this out.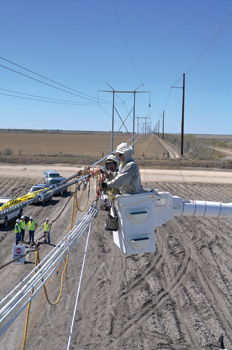 One such entity, known as the Working Group for Investment in Reliable and Economic Electric Systems (WIRES), a non-profit trade association with an international membership, is working closely with other organizations such as the Edison Electric Institute, Electric Power Research Institute (EPRI) and Federal Energy Regulatory Commission (FERC). The group, consisting of a number of utility members, grid operators and other stakeholders, is making substantial progress.
In July 2013, WIRES commissioned a report with the Brattle Group titled, "The Benefits of Electric Transmission: Identifying and Analyzing the Value of Investments." It is hoped that by taking a closer look at the not so obvious value of transmission investment, the answer to the question about who will pay for it all might become much more obvious.
The Brattle report uncovers the numerous benefits of transmission investment-an example is the value of efficiency. Reducing line losses, for instance, reduces fuel consumption and associated emissions, and it can free up generation capacity that can be used rather than lost.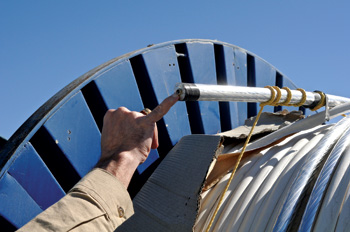 While improving grid efficiency, capacity, reliability and resiliency remain paramount objectives, the changing landscape of generation is challenging grid operators and planners. The decommissioning of several coal-fired plants, along with the addition of hundreds of megawatts of new generation-both renewable and natural gas fired-represent "moving targets." Congested transmission lines, which may fetter the integration of new generation to some degree while continuing to pose economic challenges, also reflect our vulnerability during N-1 emergency conditions.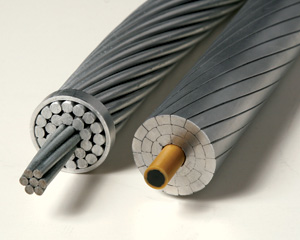 Photo courtesy of AEP
In spite of the daunting challenges, utilities often are hesitant to leverage new technology. Fortunately, in the case of the ACCC conductor, 10 years of lab testing and a number of field incidents-both good and bad-have provided utilities such as NV Energy, Oklahoma Gas & Electric (OG&E) and American Electric Power (AEP) with a broad understanding of the product's technical and economic attributes.
In 2005, for instance, during AEP's first ACCC installation, the conductor was accidentally damaged. Since that time, improved installation techniques allowed AEP to complete seven other installations without incident. Today, with the help of Quanta Energized Services, AEP is using ACCC conductor to upgrade two existing 345 kV circuits while the lines remain energized. This single project, slated for completion in 2015, will use more than 1,400 miles of ACCC conductor.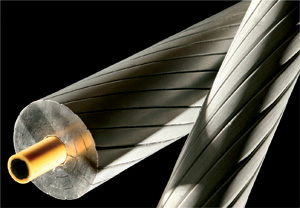 Photo courtesy of AEP
In another instance, in 2011, NV Energy, which installed ACCC conductor to increase the capacity of an existing line running between Reno and Carson City, Nev., experienced a firestorm that burned down several wood H-frame structures. While the ceramic insulators and H-frame structures had to be replaced, the unscathed ACCC conductor allowed NV Energy to quickly return the line to service.
In May 2013, an EF-4 / EF-5 tornado struck Moore, Okla. The tornado crossed directly over an ACCC conductor circuit. Though flying debris-including a 40-foot shipping container-damaged the ACCC conductor's aluminum strands, the conductor's undamaged core allowed OG&E to quickly make repairs.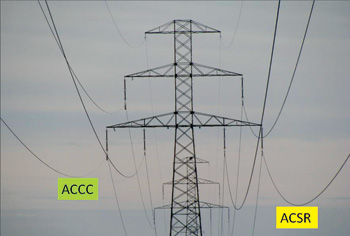 Photo courtesy of AEP
These are just a few examples of how modern technology, when fully validated and tested, can be leveraged to help improve grid efficiency, capacity and reliability, and help grid operators hit their moving targets.
---
About the author: Dave Bryant is the technology director at CTC Global.